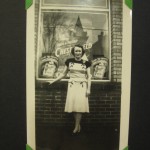 A vintage photograph of a young woman, casually posed in front of a storefront window, which advertises the "friendly" Chesterfield cigarette, invites readers into X-Ray Magazine. This San Francisco Pneumatic Press publication can be found hiding, along with other artists' books, in the Hirshhorn Museum and Sculpture Garden Library collection.
Each of the 200 copies produced by Johnny Brewton in 1994 includes a found photograph affixed to the cover, making each copy unique. The third issue of the hand-assembled artists' book includes creatively diverse examples of rubber stamps, collage, envelopes, artistamps, fold-out pages, photocopy art, comics, and both visual and written poetry from forty artists. Many of the contributions within X-Ray are signed and numbered editions from several mail artists, including the "father" of mail art, Ray Johnson.
A close cousin to artists' books, mail art is lesser known and primarily unexamined by serious art collectors and critics. Mail art is heavily rooted in the Fluxus, DaDa, Futurism, and New Realism art philosophies. The movement's strong performative and collaborative elements lend themselves to a natural give-and-take approach to art-making and exchange among artists and was the primary vehicle of communication for thousands of internationally known artists. Mail art originated with Ray Johnson's New York Correspondence School in the 1960's and Michael Bidner (Canadian) first coined the term "Artistamp" in the 1980's.
Perhaps because mail art passes through the hands of members of the general public, including mail carriers and postal workers, it is still neglected as a subject of art criticism. But what happens when mail art is collected, curated, bound, and distributed as an art magazine? Well, it is still mail art but also transcends into the realm of artists' book.
Though there is no plot or storyline to follow, the images and text interact in curious ways. Every page is a surprise; reflections of color, cut out windows that reveal elements on the next page, and the juxtaposition of text and visual elements provide the unique dialogue between the individual works within any given spread. These artists may or may not have ever met in real life, but their work is carrying on quite the conversation in X-Ray Magazine almost twenty years later.
-Amanda Meeks
Amanda Meeks is a Smithsonian Institution Libraries professional development intern.  She is a book artist and a graduate student in Emporia State University's Portland, OR School of Library and Information Management program.
Resources:
Brewton, J. [ed.] (1994) X-Ray Magazine, Vol. 1 No. 3. San Francisco, CA: Pneumatic Press
John Held papers relating to Mail Art, 1973-2008. Archives of American Art, Smithsonian Institution.