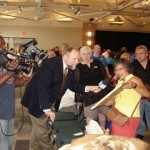 The post was written by Vanessa Haight Smith, book conservator and head of Preservation Services.
On August 19th, I participated in the fifth annual "Hidden Treasures" event at the SI affiliate, the Heinz History Center in Pittsburgh.  Visitors to the popular event are encouraged to bring their prized possessions  to the History Center and meet with professional appraisers as the local CBS affiliate, KDKA-TV, cameras roam the museum.
Nearly 50 appraisers from a variety of disciplines were on hand to assess the historic significance of  items, and provided a verbal assessment of potential monetary value. In addition, two Smithsonian conservators –  Hugh Shockey (object conservator, Smithsonian American Art Museum) and myself – were there to provide advice on how the public could best preserve and care for their treasures.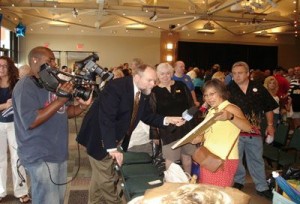 The event lasted from 10:00 am to 4:00 pm and included hundreds of visitors. Some examples of items brought to the museum were Civil War ledgers and diaries, WWII posters, 19th century scrapbooks, photographs and  albums , violins, dolls, sculpture, and Japanese swords.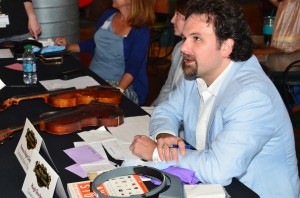 This was the perfect blend of outreach, not only providing the opportunity to advise the public but to meet conservation professionals in the Pittsburgh region, and become better acquainted with our very own Smithsonian conservation colleagues.
–Vanessa Haight Smith