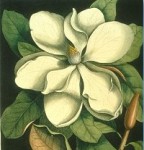 The Smithsonian Libraries, in conjunction with the National Museum of Natural History, will host a series of lectures on both Mark Catesby's art and science for the Catesby Commemorative Trust on Tuesday, November 6. This gathering celebrates the 300th anniversary of Englishman Catesby's arrival in North America. The visit to the Smithsonian is part of a six-day, three-city symposium that will include lectures by more than 20 presenters from various disciplines including art, wildlife, natural history, conservation and economics.
The English naturalist published The Natural History of Carolina, Florida and the Bahama Islands in three volumes from 1729 to 1747, making it the first published account of the flora and fauna of the New World. The Joseph F. Cullman 3rd Rare Book Library contains a first edition copy of The Natural History, which will be displayed after the symposium. This work, along with others by Catesby, can also be seen online at the Biodiversity Heritage Library.
This event is FREE and open to the public!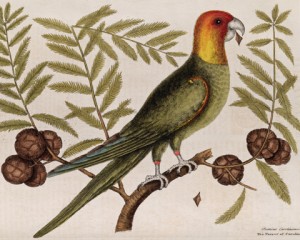 EVENT SCHEDULE: Tuesday, November 6, 2012
The National Museum of Natural History, (10th St. & Constitution Ave. NW, Washington, DC)
Baird Auditorium, Ground Floor
10:30 am – 12:00 pm: Museum of Natural History, Baird Auditorium
Welcome
Dr. Nancy E. Gwinn, Director, Smithsonian Libraries and Garden Club of America officials

Moderator
Dr. Nancy E. Gwinn, Director, Smithsonian Libraries

CATESBY'S ART

Catesby's Drawings
Henrietta McBurney Ryan, Keeper of Fine & Decorative Arts, Eton College; formerly Deputy Keeper, Royal Library, Windsor Castle & author of forthcoming book on Catesby's original paintings

The Natural History — Its Printing and Publication
Leslie K. Overstreet, Curator, Natural History Rare Books, Joseph F. Cullman 3rd Library of Natural History, Smithsonian Libraries

Catesby's Etchings — His Compositional Interests & the Birth of Environmental Science
Dr. Amy Meyers, Director, Yale Center for British Art
12:30 pm – 2:00 pm: Lunch
Ticket Holders' Lunch in the Executive Conference Room at the Museum of Natural History

Non-ticket holders – lunch on your own in the museum
2:00 pm – 5:00 pm: Museum of Natural History, Baird Auditorium 
CATESBY'S SCIENCE

Ornithology (including bird migration)
Shepard Krech III, Professor Emeritus, Brown University

Botany
Dr. Steven A. Harris, Druce Curator of the Oxford University Herbaria (scheduled – possibly given by his delegate)

Zoology (other than ornithology)
Dr. Aaron Bauer, Professor & Gerald M. Lemole Chair in Integrative Biology, Villanova University, Villanova, PA

Catesby's Economics and Ethnobotany
Dr. W. Hardy Eshbaugh, Professor of Botany Emeritus, Miami University, Oxford, OH
5:15 pm – 6:15 pm: Display of Smithsonian's first edition of The Natural History