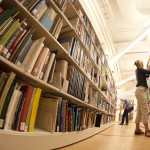 This year we are excited to offer five projects in our General Summer Internship Program! Each are unique learning experiences but all benefit from professional mentorship from Smithsonian Libraries staff, as well as internship programming opportunities and events from the Libraries and the Smithsonian Institution.
Please note that these internships do not carry a stipend, though we are happy to work with students to help them obtain credit from their college or university.  All applications must be submitted via the Smithsonian Online Academic Appointment System. Applications are due April 12th, 2013.
Digital Asset Management System Internship
Museum Support Center Collections Management Internship
Development Internship
Artists' book accessibility and research
National Museum of American History General Collections Review
Please see our internship website for detailed project information.