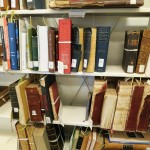 April 21-27 is Preservation Week!  In honor of this event, we will be featuring preservation-related content on the Smithsonian Libraries' blog as well as our other social media outlets, like Facebook, Twitter and Tumblr. Today, we offer you a peek inside our own Book Conservation Lab!
The Preservation Services Division of the Smithsonian Libraries is committed to the preservation, safe exhibition, and long-term access to collections objects, many of which are irreplaceable. The primary mission of the Book Conservation Lab (BCL) is to treat special and general collections items needed for research, exhibition or digitization. At the BCL, we receive objects from the multiple branch libraries throughout the Institution; organize them by branch location and treatment type; and then employ a variety of equipment and tools to enact repairs that contribute to their longevity and durability.
Workstations in the BCL are designed to provide Conservators with ample space to examine and handle all manner of objects and materials, from oversized  maps, printed illustrations, and sheets of various grades of paper and board, to small, "pocket sized," monographs and threaded needles.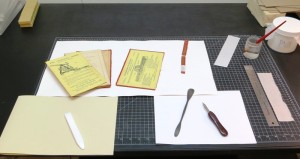 Storage units within the lab allow easy access to rolls of different colored and textured book cloth and stacks of various grades of board; while flat files house a range of paper; and uniform cabinets hold a variety of hand tools.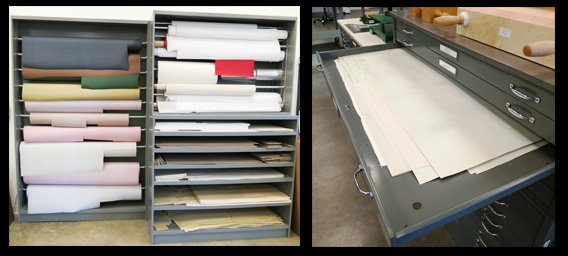 Large, free standing equipment positioned throughout the BCL contributes to each phase of repair procedures. The Board Shear and Guillotine are powerful cutting devices used to precisely trim paper or board down to given sizes for elements such as new end-papers or replacement covers; the Backing Press clamps text- blocks in need of spine re-backing in its vice-like jaws; and Book Presses of different sizes flatten and shape newly re-cased monographs or serials.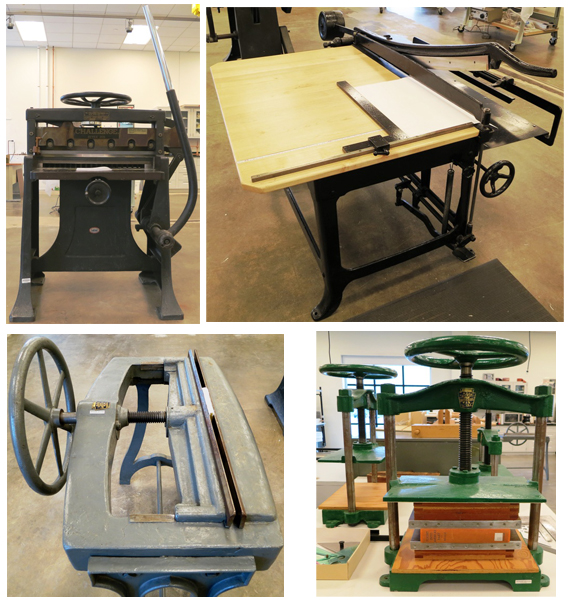 Smaller hand tools allow for precision treatment work at the bench. Brushes and adhesives; Bone Folders and spatulas; scalpels and rulers; needles, thread, and sewing frames; and finishing presses are frequently used implements that assist in work such as paper repair; re-sewing; and constructing custom made enclosures.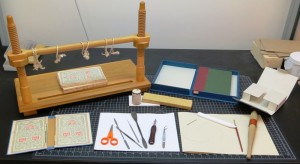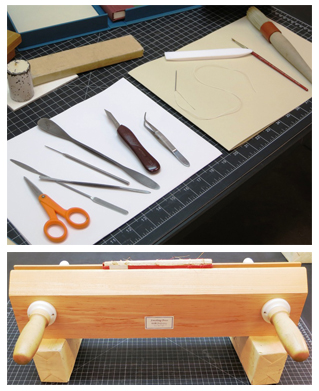 Additionally, special collections objects may require extraordinary treatments. The BCL is equipped with a large sink and specially designed drying rack in order to wash and dry stained leaves; a fume hood to contain and vent chemicals or mold residue; and other machines such as the Kensol Press, which is used to design and "print" elaborate spine labels, and a microscope, for delicate work that requires magnification.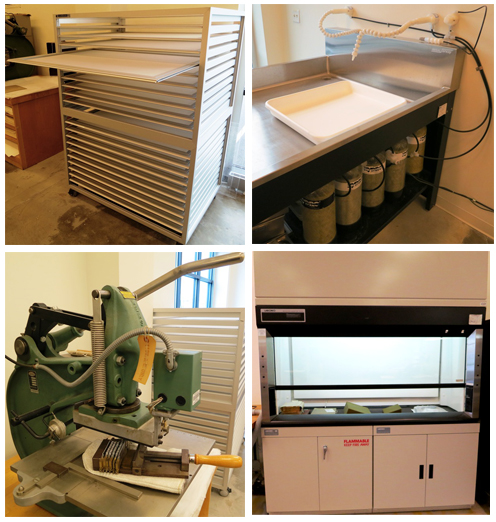 Treatment of objects in the Book Conservation Lab may require as little as fifteen minutes or as long as several weeks, depending on the extent of the damage. However, all treatment decisions are guided by the desire to maintain as much of a given object's original elements as is reasonably possible via minimal intervention. Each object, whether an 18th Century rare book destined for exhibition, digitization or careful storage, or whether a monograph published last year and soon to be in the hands of a user and then shelved in the stacks, is considered equally important. Each object is treated with the purpose of preserving it and making it accessible for as long as possible in an effort to contribute to the Smithsonian Institution's main mission: the protection and diffusion of knowledge for all.