With Halloween just around the corner, what better time than now to search for candy catalogs in the Trade Literature Collection? As you might expect, there are many catalogs describing either the candy itself or the machinery used to make candy. One catalog takes a slightly different angle.
Directed towards the aspiring candy maker, it offers lessons on how to start your very own candy business. That is, a candy business in 1922.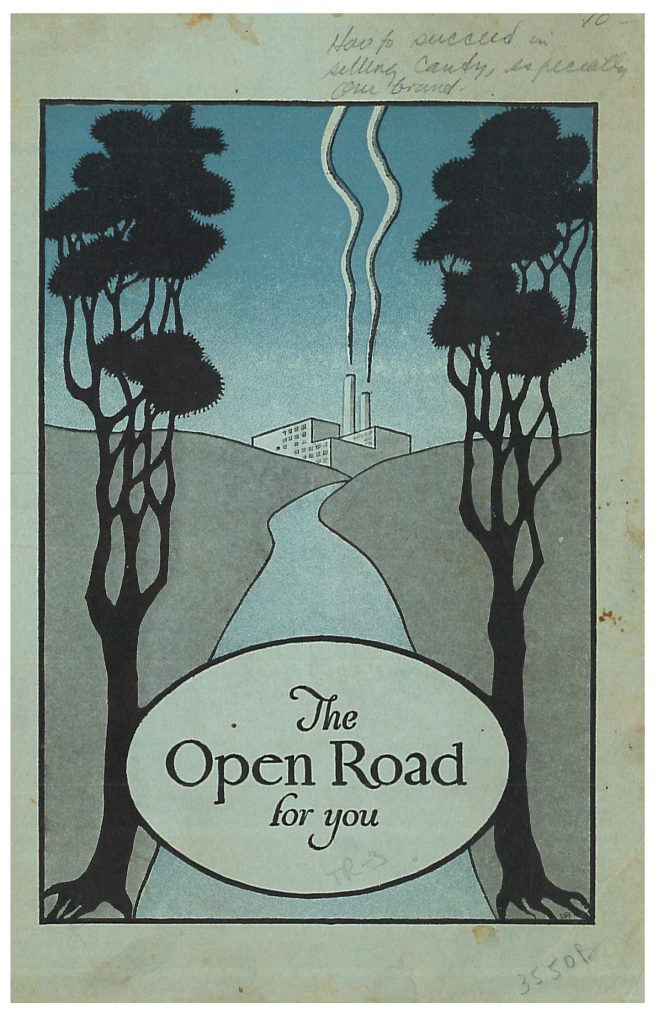 The catalog is entitled Open Road for You to Success in the Candy Business (1922) by W. Hillyer Ragsdale. It begins by explaining that in 1905, W. Hillyer Ragsdale decided to create a correspondence course to teach the business of candy manufacturing. By 1908, he had compiled his "Scientific Course of Candy Manufacturing Instruction."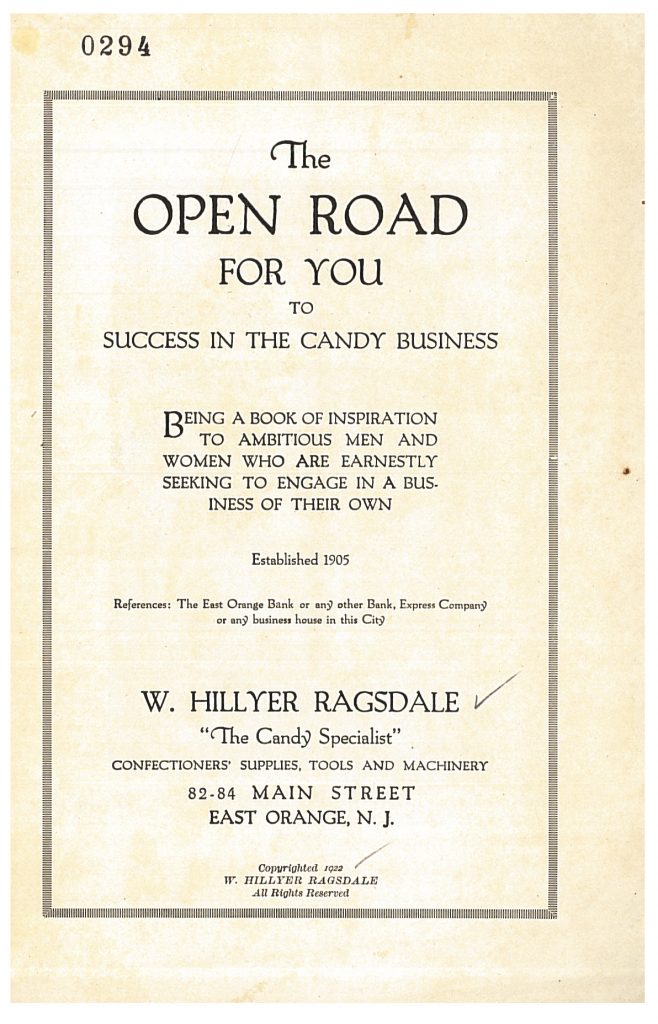 Through his correspondence course, the aspiring candy maker had the opportunity to learn to make candy in small quantities by hand using a kitchen range or stove and a large kettle. Other candy making tools, such as moulding outfits and candy thermometers, were available from Mr. Ragsdale's company. Ingredients, such as sugar, chocolate, nuts, fruit, flavoring extracts, milk, cream, butter, eggs, etc., could be bought at local grocery stores.
The correspondence courses taught students how to make many different types of candy. These included soft cream candies such as cream bonbons or fudge and chocolate candies such as flavored chocolate bonbons or chocolate nut and fruit creams. They also learned to make penny candies such as chocolate squares or caramels, hard candies like taffies and popcorn balls, or bar candies such as milk chocolate almond bars.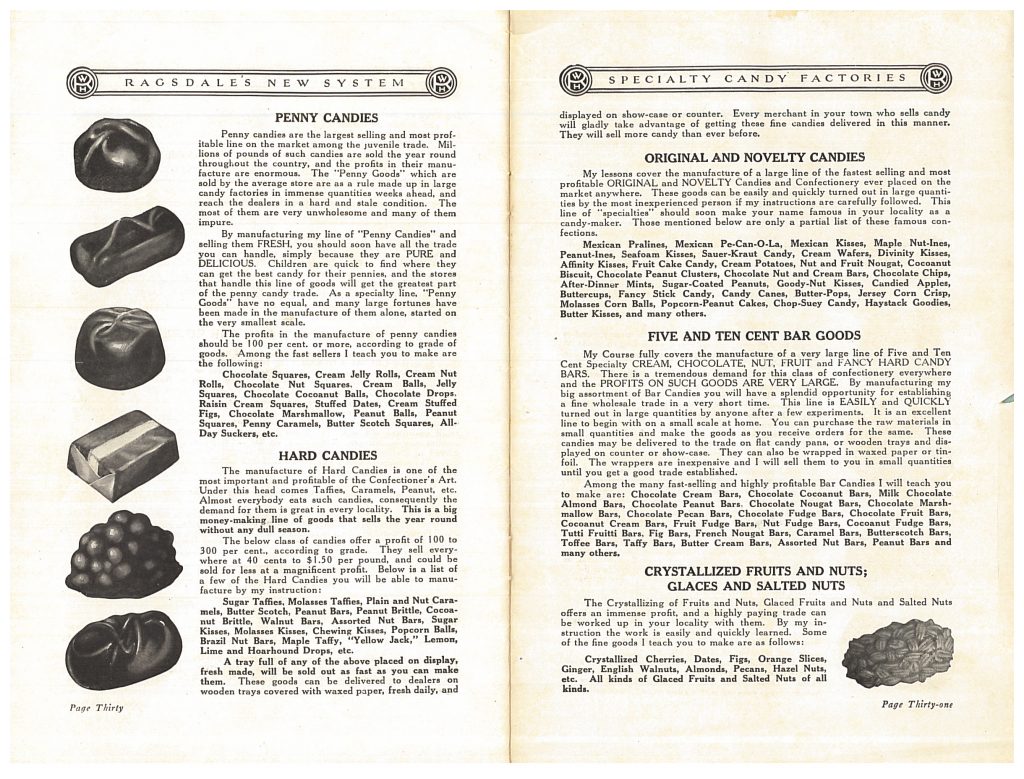 Courses taught the process of moulding cream candies and chocolates, coloring and flavoring candy, boiling sugar correctly, making cream "stock" or fondant, and crystallizing fruits and nuts. There was even a course on making ice cream. If a student found one particular candy difficult, he/she had the option of mailing a sample of the candy to Ragsdale who would then send a personal letter explaining what went wrong with it.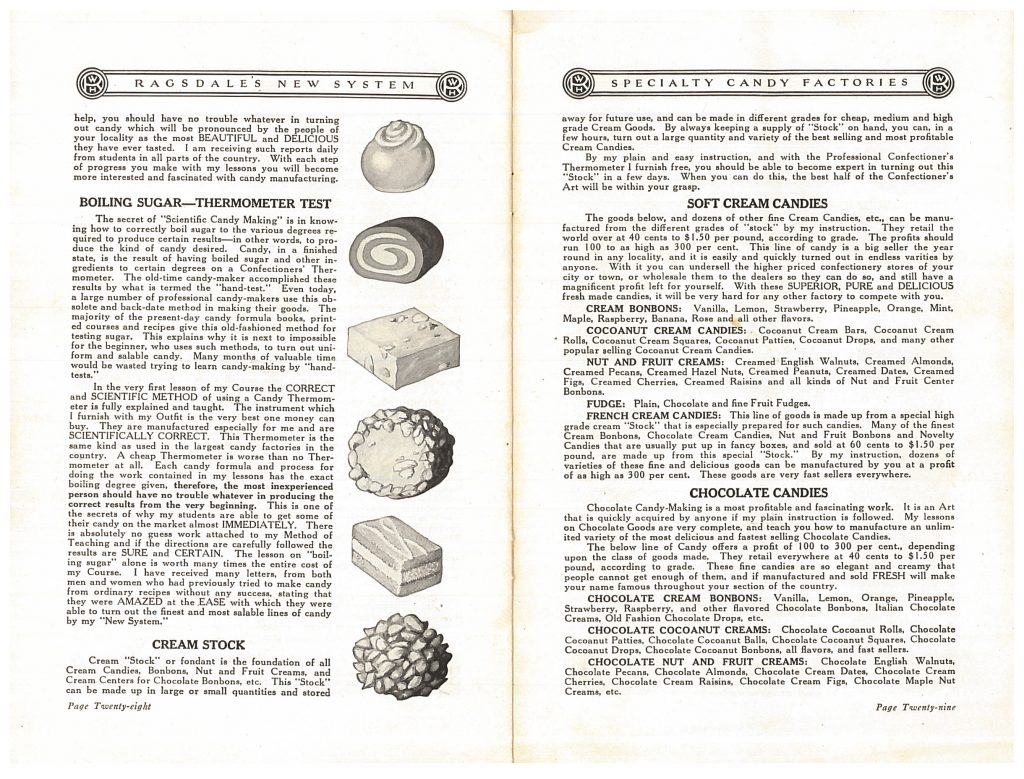 Other courses focused on the retail side of the business. Students learned to wrap and pack the candies, display them in a pleasing way, and advertise. They also received instruction on how to start a candy store, operate a candy department inside a larger store, or open a "candy stand" in the outdoors.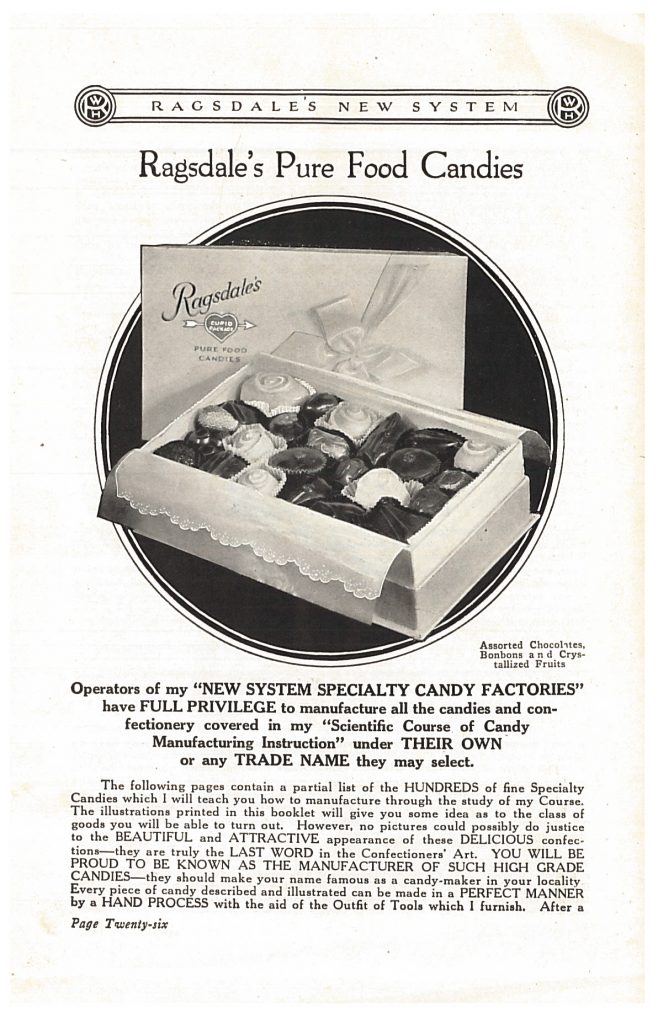 After completing courses and passing experimental tests, each student received a "Certificate of Proficiency" as well as one year of free advisory services from the Advertising and Printing Department.
Open Road for You to Success in the Candy Business (1922) by W. Hillyer Ragsdale is located in the Trade Literature Collection at the National Museum of American History Library.