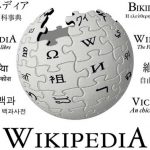 Wikipedia is coming for a visit! On Friday, October 12, the Libraries, in cooperation with other Smithsonian units, will welcome local Wikipedia editors for a day full of creating and editing articles using Smithsonian Libraries resources. With American Archives Month, National Book Month, and Open Access Week, October lends itself to an event for Wikipedia Loves Libraries. In its second year, Wikipedia Loves Libraries is a campaign to bring Wikipedia and libraries together with on-site events, and help build lasting relationships between libraries and their local Wikipedian community. If you edit Wikipedia or want to learn how, we would love for you to come! Check out the Wikipedia Meetup page for more info.
The day will start with New Editor Training for those unfamiliar to the rigorous Wikipedia editing process. Editors already confident in their Wikipedia abilities will be treated to Behind-the-scenes tours of the Smithsonian National Museum of Natural History. So far, we have tours lined up for the Cullman Rare Book Library, the Herbarium, and the Invertebrate Zoology specimen collection. The day will culminate in an Edit-a-thon — an afternoon of improving and generating content using and linking back to Smithsonian holdings.
Suspicion and antagonism may have been the first reaction many librarians had to Wikipedia, but open access to information remains the core principle of both the library world and Wikipedia. Rather than lamenting the death of authoritative sources, this approach capitalizes on Wikipedia's success drawing people in by placing authoritative information right in front of Wikipedia readers. The result? Both Wikipedia and the Smithsonian benefits from the relationship–they get better information sources and we get exposure to the specialized collections and resources we have. Hopefully the editors get some perks as well by getting behind-the-scenes tours, too.
In July of this year, many Smithsonian staff attended the 8th Annual Wikimania Conference here in DC (see the related blog post about it). It was clear to them that the Smithsonian Libraries has content that would be excellent additions to many articles in Wikipedia. In fact, there are already over 1600 links from the Smithsonian Libraries already in Wikipedia, including extensive use of scientific portraits from the Dibner Library of the History of Science and Technology.

By hosting this editathon, we hope to strengthen the ties that already exist and work towards the goal of free, open, global information together.  Can't make it? Consider getting involved with your local Wikipedians, asking your local library to participate, or letting us know about articles in Wikipedia you think could use some help from the Smithsonian. If you work at a museum, library, or archive, consider getting involved in GLAM Project (Galleries, Libraries, Archives and Museums), which includes these and other institutions that work with Wikimedia to produce open-access, freely-reusable content for the public.