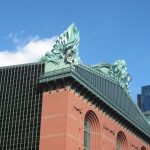 This post was written by Martin Kalfatovic, Associate Director, Digital Services Division, Smithsonian Institution Libraries.
On October 11-12, Nancy Gwinn, Director of the Smithsonian Institution Libraries, and I participated in the Digital Public Library of America's (DPLA) Midwest workstream and plenary meetings. The meetings were held in some wonderful meeting spaces at the Harold Washington Library Center of the Chicago Public Library (interesting side note: the building holds the record for largest public library space!).
I serve as co-chair of the Technical Aspects Workstream (along with SJ Klein) and Nancy is a convener of the Governance Workstream. Additionally, Nancy serves as the official Smithsonian representative to the DPLA. The first day of meetings were participatory workshops where a wide group of interested parties moved between three topic areas: Content Infrastructure and the Digital Hubs Pilot Program, Technical Development, and The Future of the DPLA. These sessions provided important feedback to the DPLA leadership group on focusing forward direction for the DPLA.
The second day of the DPLA Midwest Plenary was open to the public. The funders of DPLA were introduced. These include a mix of public-private organizations (Sloan Foundation, National Endowment for the Humanities, Institute of Museum and Library Services, and the Knight Foundation which announced a $1 million dollar grant).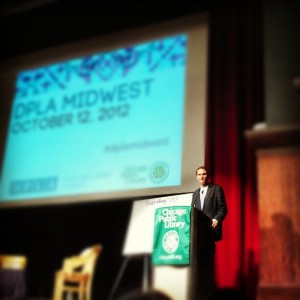 The outgoing Steering Committee were also thanked and the new incoming Board of Directors introduced.
The program for the day included:
Digital Hubs Pilot Project
This panel discussion will feature representatives from the DPLA's initial service hubs. The session will also provide updates on the emergent DPLA content infra-structure, data provider agreements, and related key details. Speakers include: Emily Gore (DPLA Director for Content), John Butler (University of Minnesota Libraries), Mary Molinaro (University of Kentucky Libraries)
Technical Development: Creating and Integrating
In this interactive session, members of the technical development team will describe their progress in developing the DPLA platform and the prototype front-end. Participants are invited to contribute comments and questions. Led by Jeff Licht, DPLA Technical Development, Pod Consulting.
The DPLA as a Platform
This session will feature ongoing work to build applications and services on top of the DPLA platform. Led by Sam Klein and Martin Kalfatovic, DPLA Technical Aspects Workstream. Slide presentation here.
More information:
–        DPLA Website
–        DPLA Midwest Agenda | Speakers
–        Photos from DPLA Midwest Plenary