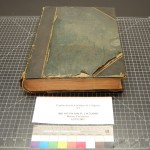 What is a full treatment exactly, in book preservation terms? A full treatment entails the dis-binding, washing, drying, re-sewing and re-casing of a book. In the case of Exploration Scientifique de L'Algérie, the book came to us from the Cullman Rare Book Library because it had previously been damaged by water and mold. In order to clean, flatten and remove the mold from the book, we needed to take it apart section by section, page by page.
The first step with any mold damaged book is freezing it to deactivate any remaining live spores. This is done in a commercial freezer over a period of days. Two days in the freezer, one day of rest and then one more day in the freezer.
The book was dis-bound once the freezer stage was completed, and each individual page was cleaned using fine grade eraser crumbs. Next the pages were washed in a bath of de-ionized water followed by a bath of calcium carbonate to buffer the papers. The washing lessened the tide lines created by the original water damage and allowed us to flatten the pages.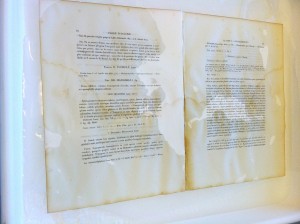 After thorough drying, first on a drying rack and then pressed between felts, the pages are re-collated into sections. The sections are guarded with Japanese paper and then sewn together into a new text block.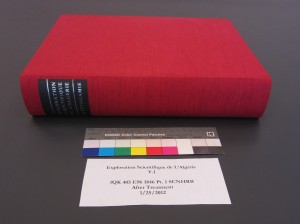 The original covers were not salvageable due to the extent of the mold damage. So new covers were created and the text block was cased into the new cover. Now researchers may access the book without causing damage to the covers or text block.