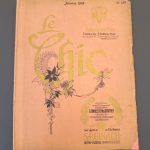 Eight Le Chic fashion magazines are currently patients in the Book Conservation Lab.  The magazines came to us from the Cooper-Hewitt National Design Library.  They date from the early 20th century and were published in Vienna, Austria. The fashions are reminiscent of the costumes seen in Downton Abbey or Mr. Selfridge!
Each magazine contains 10 color plates, one panoramic showplate (centerfold), and one perfect cut pattern. Alas, the patterns are no longer with the magazines.  More than likely they were put to use making these fabulous dresses!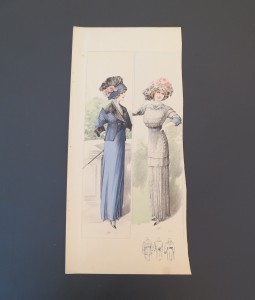 The conservation issues are those typically associated with paper that has received heavy use, such as tears and stains. However, since these are fashion magazines, many have areas of loss due to "clipping." Many of the magazines were also re-enforced with fabric and sewn along the gutter (with a sewing machine!)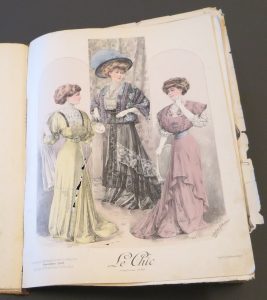 This plate shown above is torn through the yellow dress. The tear created accordion-like folds in the paper.  The first step was to carefully humidify the folds from the back so as not to disturb the hand colored illustrations.  After flattening, the tears were repaired using thin strips of Japanese paper adhered with wheat starch paste.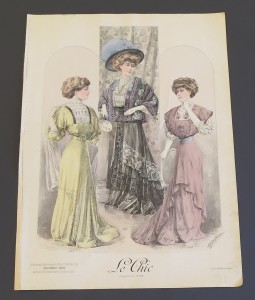 This is the print after treatment.  The plates can now be used and enjoyed without fear of further harm.
Each issue will be housed in Mylar and then a custom double tray box will house the entire set, so that researchers can easily locate the issue they wish to peruse without unnecessary wear.  The custom enclosure will keep the issue free from dust and other environmental hazards.