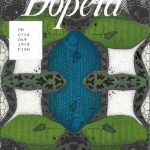 Quite often scientists are pegged as a very studious and serious group of individuals.  In order for serious scientific research to be developed, nurtured and shared, this is a valid assumption.  And scientists are very serious about their journals; either as a vehicle for getting their original research out to fellow scientists or in consulting other published material in their discipline (or other disciplines).  However, every great now and then you come across evidence of some not-so-serious 'published' work that shows an irreverent, tongue-in-cheek side to scientists.  I would like to share some examples I found in the Smithsonian Libraries Vertebrate Zoology collections. 
The auklet: an occasional journal of ornithological minutiae, in which the first article of the first issue is "Moot points in American ornithology," by A. Wise Bird.  This first issue is dated October 1920 so includes this addition:  "Change in nomenclature: It is obvious that the name of Brewer's Sparrow must now be changed to Temperance Sparrow (Spizzella albotaeinata.)"  From the ichthyology and herpetology branches are Dopeia, an obvious send-up of Copeia, and Ichtherps : a cold-blooded journal of vertebrates.
All these satirical journals have the sections that you'd typically expect.  For instance there are Contents pages: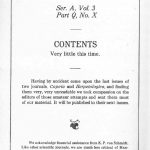 And there are 'scholarly' articles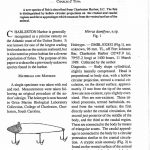 How about minutes from meetings?: "Minutes of the Last Meeting:  We started with 148 minutes and 25 governors.  However, a number of the minutes passed away before the President's opening harrumph.  After this the Secretary read a few riot acts to the audience".
Unsure of the meaning of 'scientific' terms?  Helpful glossaries are included: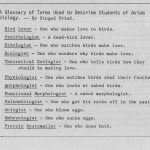 Need equipment for the field?  Commercial 'advertisements' can guide your selection: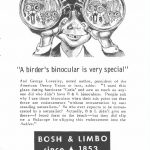 Then there are sections you wouldn't expect.  You might find jokes and puns:
Little Brown Hen:  "That new rooster has been making love to me."  Little Red Hen:  "Did you give him any encouragement?"  Little Brown Hen:  "Just egged him on a little."
"There!" exclaimed Gus Griswold of the Philadelphia Zoo, as he presented his favorite sea-bird with a mate,"one good tern deserves another."
There's poetry!:
Texas owls hoot in Austin;
Their "To-whooing" fills the gloom;
But the owls who hoot in Boston
Hoot more haughtily, "To whom.
There's advice!:
                Dear Dr. MEWS:  I am trying to catalogue my tunafish collection using MEWS, by [sic] my harddisk has become, well more like a floppy disk, having lost most of its RAM.  What should I do?  Signed, B. Coolette, Wash. D.C.

                Dr. MEWS replies:  First, you have not told me how old your computer is, but if it is relatively new, you shouldn't be having this problem.  You are probably doing something stupid.  I suggest that you contact the MACMasters and Johnson clinic in St. Louis for therapy.
And lastly, there's cheesecake!: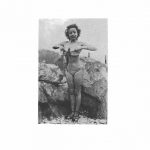 So if you come across a scientist who seems lost in deep thought with knitted brow, don't assume they are always this serious.  He or she may have contributed some content to any of these humorous, satirical journals!
Issues consulted:
Auklet:  v. 4, no. 1, Septemurre 1957; v. 5, no. 1, Auktober, 1961;  Aukgust, 1975
Dopeia:  June 1960; Sept 1964; June 17, 1974; 1988; June 31, 1990
Ichtherps:  April 3, 1941