New York Fashion Week is held in February and September of each year in  New York City; dates for 2013 are  September 5–12th. The Special Collections  of the Cooper- Hewitt National Design  Library in New York have always been a  great research resource for people working in the fashion and related industries. We have in our collection a rare fashion title Robes et Femmes, published in 1913 by the Italian designer  Enrico Sacchetti (1877-1967).
 He was an illustrator, writer,  fashion designer, caricaturist and commercial artist.  Sacchetti  collaborated with Marinetti, the Father of Futurism, on his magazine Poesia, in Paris, where he worked as a fashion illustrator immediately before WWI.  At the outbreak of the war he returned to Italy, where he worked as a propaganda artist , magazine and book illustrator, and designed postcards and posters. In his long career, he is well known for an illustration and graphic style  that often crossed the borders  between portraiture and caricature.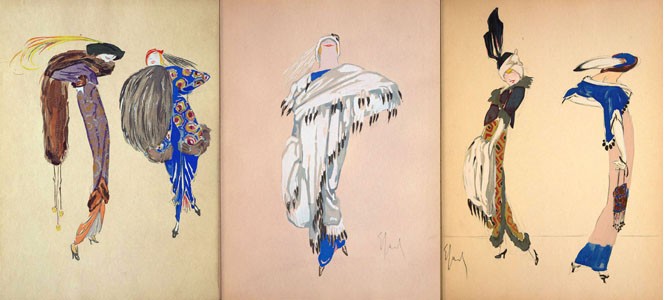 Robes et femmes, was a satirical look  at the avant-garde designs of Paul Poiret and Paul Iribe's iconic Les Robes de Paul Poiret racontées par Paul Iribe (1908). Note the exaggerated poses and figures of the models, and the elongated necks and shoulders  shown here.  Sacchetti's illustrations which depict feathers, furs, turbans and tunic dresses  resemble  Poiret's designs of the time.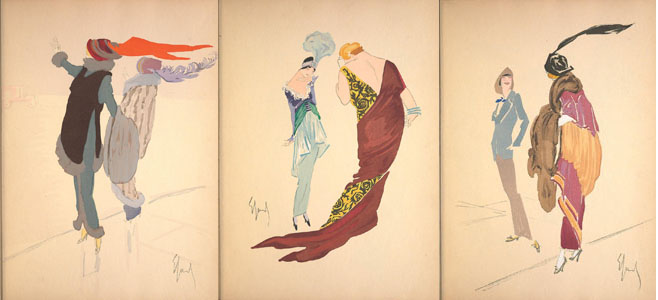 The cover and 13 plates are hand colored lithographs which were published in limited edition portfolios  of 300 numbered copies.