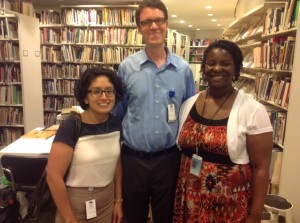 This post was written by Salima Appiah-Duffell, library technician at the Smithsonian American Art Museum/National Portrait Gallery Library and Hirshhorn Museum and Sculpture Gallery Library. Salima recently joined our staff in July. Welcome, Salima!
When I started library school at Catholic University, working at the Smithsonian (Institution) seemed like a beautiful, but impossible dream. Now, with my Master's in hand, I've started my second career exactly where I hoped.  I've been a Library Technician for the Hirshhorn Museum and Sculpture Garden and Smithsonian American Art Museum/National Portrait Gallery Libraries for a month now, and I still can't believe my luck.
I came to the Smithsonian from the Department of Housing and Urban Development (HUD), where I worked in the office of Public Housing (To clear up  any confusion, I worked full-time while going to school, part-time—boy was that stressful!). Since HUD's headquarters are only a few blocks from the Hirshhorn, I invited some of my former colleagues to visit me at the library for a tour complete with "show and tell."
On the tour, my former colleagues Neil and Virginia were joined by 11 members of the Hirshhorn's staff. They learned about the library's collection: 60,000 volumes, hundreds of artist files, and dozens of periodicals supporting research on the Hirshhorn's collection and upcoming exhibits.
The Hirshhorn's Librarian, Anna Brooke, also showed off some treasures from the library collection: Hishhorn historical ephemera, artist books (including one by Jeremy Deller), creative invitations from past exhibitions and issues of Visionaire, an arts publication whose individual issues, in my opinion, qualify as artist books in their own right. The library received 12 issues of Visionaire as gift, perhaps due to the cool factor of the Hirshhorn being the only Smithsonian museum dedicated to contemporary art.
The library is especially strong in international exhibition catalogues and brochures related to Hirshhorn and artists in its collection. These, too, are part of the efforts in supporting the museum's collection and exhibition program. Any member of the public can visit the Hirshhorn Library; we just ask that those coming from outside the Smithsonian make an appointment with us.
Neil and Virginia really enjoyed their visit and were inspired to check out Jeremy Deller's Directions Exhibit on the ground floor. As for me, I'm settling in nicely, learning a ton, and living the dream.