Charles Gibson (1867-1944) is one of the best known illustrators of the Gilded Age primarily due to his creation, the Gibson Girl, who became an icon of American beauty. As an illustrator he was talented in depicting relationships between men and women and submitted illustrations to such magazines as Harper's Weekly, Life, and Harper's Monthly. In 1890 he introduced a modernized beautiful female character with upswept hair, fashionable clothes, and imbued with independence and glamor – the Gibson Girl.  Gibson's book, Americans, is currently available for adoption in our Adopt a Book program.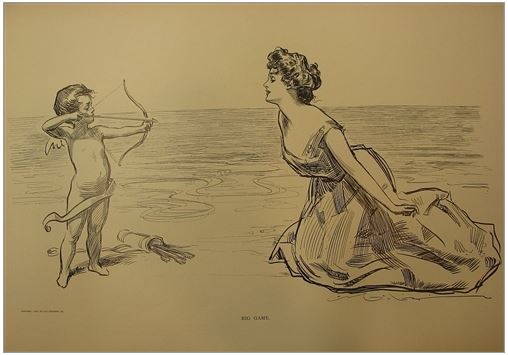 Charles Gibson was an integral figure American art. From the Libraries' online exhibit, Drawing from Life: Selections of Caricatures and Cartoons in the American Art/Portrait Gallery Library:
Gibson's drawings chronicled American high society in New York and Boston, where old aristocratic families mingled with each other at the exclusion of newcomers. While Gibson's subjects were mostly American, he visited Europe and drew Paris and London society as well. His drawings were done on a large scale which was greatly reduced. This gave a superb fineness and finish to the final printed image.
The popularity of Gibson's cartoons created a national sensation which drew many imitators. They also dictated the fashions and manners of a generation. Men sporting beards were suddenly out, as Gibson's depiction of the 'ideal beau' was clean shaven. His cartoons today represent what Gibson's contemporaries thought, how they behaved, and what the social conventions of the time were.
During the early 1890s, Gibson began to draw what would become his most famous creation, the Gibson Girl. She was tall, athletic, and beautiful. The Gibson Girl epitomized the characteristics of the ideal turn-of-the-century American woman and fulfilled American society's need for an aristocracy of their own. This creation first appearing in the book Drawings and was an immediate success. Images of the Gibson Girl appeared on dishes, pillows, shirtwaists, shoes, dressing-table sets, folio books, and even wallpaper.
Even today, the Gibson Girl name is easily recognized. Americans is one of several books that were published at the turn of the century with illustrations featuring the Gibson Girl. The Smithsonian Libraries has over a dozen similar titles – however this book is particularly special in that it is a limited edition signed both by the publisher (R.H. Russell) as well as by Charles Gibson himself.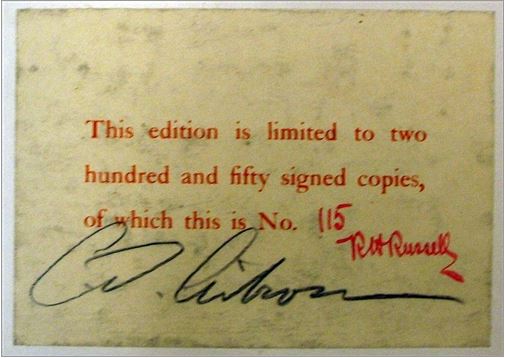 This copy of Americans is currently available for adoption in our Adopt a Book program. What better way to honor America's Independence Day than to help us preserve an important piece of our shared past? Adopt a Book was established to provide extra resources to build the fund for acquisitions of new books for the Smithsonian Libraries. When you adopt a book, a bookplate will be added in your name and the Libraries will use your contribution to purchase new books. In doing so, you help the Libraries grow its collection.
However you chose to celebrate the Fourth of July, we hope you have a happy and safe holiday!