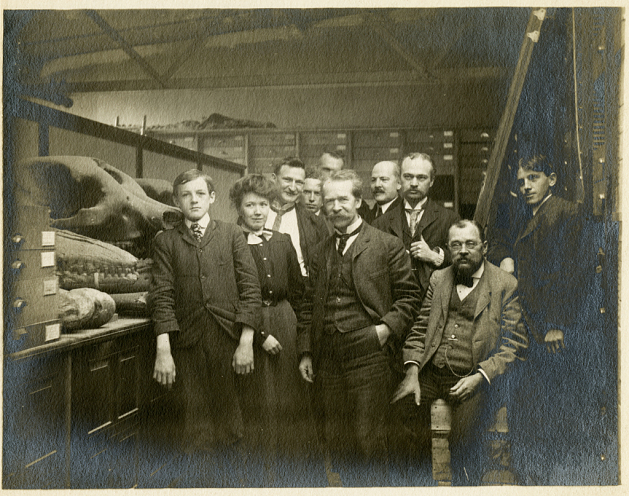 From May 13-20th, the Smithsonian Libraries is participating in the #DigIntoDyar campaign – encouraging the public to transcribe the field books of this remarkable entomologist in the Smithsonian Transcription Center and to learn more about his life and work. This post was written by Marc Epstein, Research Associate at the National Museum of Natural History and author of Moths, Myths and Mosquitos:The Eccentric Life of Harrison G. Dyar, Jr.. You can read Marc's first post about Dyar here and second here.

Harrison Dyar's scientific legacy has been overshadowed because he dug extensive underground labyrinths and because of his known bigamy (both explored in-depth in this Washington Post series).  His family wealth allowed him to either work gratis or for a pittance at the Smithsonian from 1897-1929.
In entomology circles the combination of Dyar's tunnels and bigamy led to an urban legend that the tunnels connected his two households and the bigamy was discovered by when children from each family met, only to find out that each had a father that studied butterflies at the Smithsonian.
One of the key findings about Dyar's personal life that is presented in my new book Moths, Myths, and Mosquitoes came from his field notebooks, which show involvement of relatives, friends, wives, and a mistress in his collecting and rearing of insects. Among the relatives who assisted him were his Uncle Josiah Cushman Hannum (Blue Book 1, August 13, 1882), his mother Eleonora (Blue Book 1, August 3), and his Aunt Parnie Colburn (Dyar Catalogue, June 29, 1889, entry no. 2944).
With the help of these notes, correspondence, genealogy, and the scientific literature I was able to find that Uncle Jo fought for the Union Army to defeat the "Gangs of New York" in the famous draft riots in 1863, Aunt Parnie participated in some of Lincoln's séances with famous medium and collaborator Nettie Colburn, and his mother, known as ER Dyar (Clough) was a prominent trance medium in Boston. His future wife Zella's involvement is well documented in the catalogue from 1888 (entries, a year before their marriage, and after their marriage, in the Blue Books and mosquito literature. In addition, Dyar named species after both his first wife Zella (Euchaetes zella) and second Wellesca (Parasa wellesca).