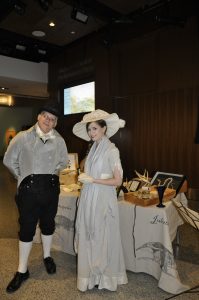 The term "Natural Philosopher" was common in the early 19th century for someone who studied nature and the physical universe. It was not until the mid-19th century onward that the term scientist becoming more popular. Natural philosophers often pursued a wide variety of both scientific and artistic interests and offer a colorful glimpse into the world they inhabited.
Smithsonian Libraries proudly presents the second of three programs featuring Dean Howarth in the role of "Natural Philosopher" as he re-enacts the past through such historical figures as paleontologist Charles Willson Peale and aeronaut Dr. John Jeffries.
The first Fantastic Worlds themed program featured Howarth as Charles Willson Peale with his assistant Melinda McCalley as Mary Anning, two early paleontologists. Anning is known for her significant finds including the discovery of a complete fossil of an ichthyosaur when she was only twelve years old. Charles Willson Peale is known for his work as a natural philosopher, painter, and founder of the Peale Museum.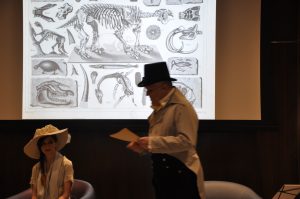 Dressed in the garments of the time, Howarth and McCalley brought the past-to-life through engaging narratives and hands-on interaction.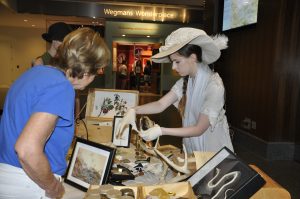 The next program will feature Dean Howarth as aeronaut Dr. John Jeffries, Niab Montgomery as the daredevil aeronaut Sophie Blanchard, and Abigail Fine as Georgiana Cavendish, supporter of the sciences. The program will include accounts of early pioneering efforts in ballooning accompanied by scientific demonstrations.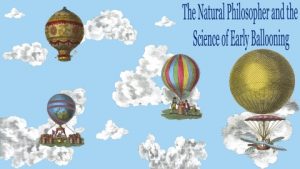 So please join us on Friday, August 26th from 2-3 pm at the Coulter Performance Plaza, 1 West located in the National Museum of American History 14th Street and Constitution Ave NW, Washington, DC.
Fantastic Worlds: Science Fiction 1780-1910 is now on view in the Smithsonian Libraries gallery located in One West of the National Museum of American History through February 2017.
Save
Save
Save
Save
Save
Save