2016 has been a landmark year for the Smithsonian Libraries. Because of donors like you, the Libraries is able to continue in its role as the pinnacle of museum libraries, serving as a scholarly resource for Smithsonian researchers and curators and for brilliant thinkers from all around the world, as well as increasing access into our collections for learners of all ages. Some examples of what we have been able to accomplish in 2016 are:
Launching I See Wonder, a creative way to spark inquiry, analysis, and discussion. By visually exploring our images, students of all ages can interact with the Smithsonian Libraries collections at home or in their classrooms.
Celebrating the 10 year anniversary of the Biodiversity Heritage Library, an online library making biodiversity literature openly available to the world as part of a global biodiversity community, in a manner that is free and easily accessible to people all over the globe.
Over 700 books were treated by our talented Book Conservation Laboratory team, preserving the knowledge on our shelves for countless future generations.
Digitizing 2,301 items (totaling 637,618 pages), making our specialized collections available to anyone around the world, free of charge.
Opening the acclaimed exhibition, Color in a New Light, in the Smithsonian Libraries cases at the National Museum of Natural History.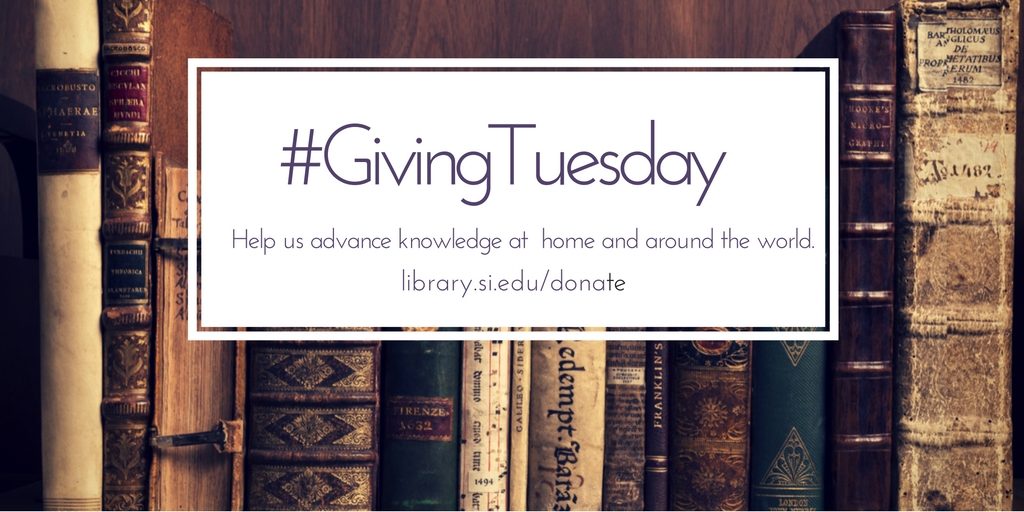 Please consider making a fully tax-deductible year-end gift to the Smithsonian Libraries. When you support the Libraries, you help to ensure that we remain the place where scholars, scientists, authors, historians, and curious minds of all ages come to test and expand their ideas, a place where we can all turn for information and answers.
To make your gift, please visit us online or reach out to Allie Swislocki at 202.633.7263 or swislockia@si.edu.
Thank you for your generosity on this Giving Tuesday, and in the years to come. We cannot do this without your support.
P.S. Did you know that you can increase the impact of your gift by sharing about it on social media? And don't forget to engage with us on Twitter, Facebook, Instagram, and Tumblr!
Save
Save
Save