The Smithsonian Libraries was recently gifted the flipbook Eagles in Flight. A flipbook is a grouping of still images of movement that when quickly "flipped" give the illusion of actual movement. The books reached their height of popularity  at the end of the 19th century and beginning of the 20th century.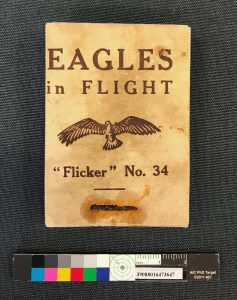 This book is from a series entitled Flicker (because they are known as flickerbooks  in the UK where this title was printed) depicting animal movements. Eagles in Flight came to the Book Conservation Lab with the back cover detached and the front cover held in place with an oxidized staple. Staples were often used in the flipbooks because they hold the pages securely in place.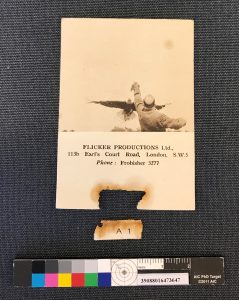 The staple caused damage to every page of the book. Step one in the conservation process was to carefully remove the staple. After the staple was removed the pages were separated and each page was repaired using Japanese paper adhered with reversible wheat starch paste. The cover was also repaired with a piece of Japanese paper toned to compliment the original cover color.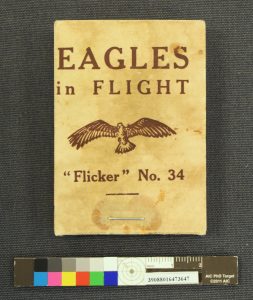 The pages were then pressed overnight before placing them back in the cover and re-stapling the book with a stainless steel staple.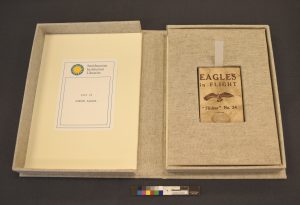 Due to the book's small size a double tray box was created to house the flipbook. One tray was lined with a piece of cloth covered ethafoam with a cut out for the flipbook. The book now has a secure place on the shelves of the Joseph F. Cullman 3rd Library of Natural History.
Click here to see a video of the flip book in action!
Save
Save
Save
Save
Save