A number of new staff joined the Smithsonian Libraries in the past year (and we're so happy to have them!). Meet the new team members who came on board in 2017: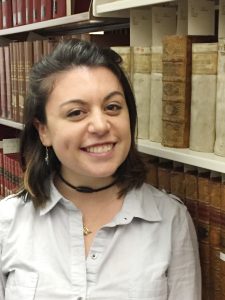 Morgan Aronson
Library Technician
Dibner Library of the History of Science and Technology
Hometown: Gaithersburg, Maryland
Favorite book: Notes from Underground by Fyodor Dostoevsky
Fun facts: Won "Most Likely to Rule a Dictatorship" in high school.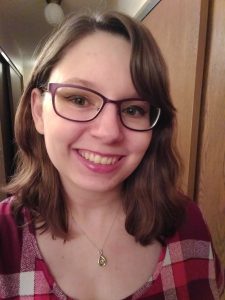 Kristina Cottingham
Data Developer
Digital Programs and Initiatives
Hometown: Dillon, South Carolina
Favorite book: If we go off of how many times I've reread it, probably the Harry Potter series.
Fun facts: My family is from South Carolina, but I never stayed there for long. My dad was in the military, so we traveled a lot. I lived in Egypt for two years and South Korea and Greece for three years. I graduated in Athens. I've spent the last six years in South Dakota, where I went to college.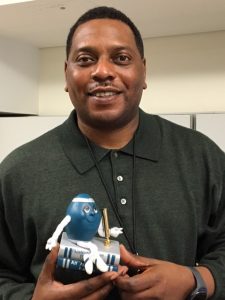 Samuel Gamble
Management Support Specialist
Administrative Services
Hometown: Born in Baltimore, Maryland and raised in Suffolk, Virginia
Favorite book: I enjoy reading bios; some of my favorite are: Dreams from My Father and The Audacity of Hope by Barack Obama, and Extraordinary Ordinary People by Condoleezza Rice.
Fun facts: I've been weekend warrior with the Maryland Army National Guard for 18 years. I like afternoon jogs after work on the National Mall and around the monuments and downtown D.C. attractions. I enjoy participating in various running events that give out the bling (medals) at the end of the each race.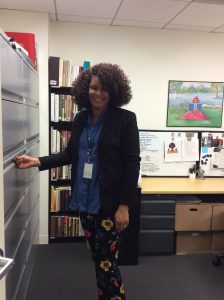 Chanda Hardin
Library Technician
National Museum of African American History and Culture
Hometown: Washington, D.C.
Favorite book: 1984 by George Orwell and The Giver by Lois Lowry
Fun facts: I lived in Myrtle Beach for a year and consider it home. In my free time I like to read and sometimes write. I think that I was a young adult fiction writer in a past life.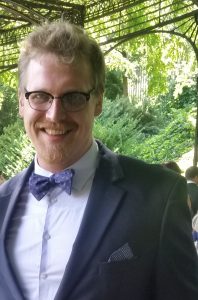 Alan Katz
Library Technician
Vine Deloria, Jr. Library, National Museum of the American Indian and Smithsonian Libraries Research Annex
Hometown: Baltimore, Maryland
Favorite book: The Ralph Steadman illustrated edition of Animal Farm by George Orwell.
Fun facts: In my night life I'm a theater professional. I produce, dramaturg, develop, write, criticize, and, yes, sometimes even act in theatrical productions. Most of my free time right now is occupied by my 3 month old daughter, Beatrice.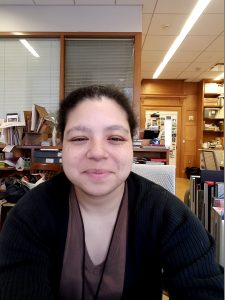 Nilda Lopez
Library Technician
Cooper Hewitt, Smithsonian Design Library
Hometown: Bronx, New York
Favorite book: Grimm's Fairy Tales by Brothers Grimm
Fun facts: I love to travel and learn new things! I lived and studied in Florence, Italy for a year for my second master's degree, am a native New Yorker, and currently work part-time as a curatorial assistant at the Montclair Art Museum in New Jersey. I love going to exhibits and visiting museums and libraries. I enjoy playing video games, (currently playing the Nintendo Switch!), to read, travel, and have fun and exciting experiences. I am the proud aunt of six-month old twin girls, Elena and Emily, and of a one year old boy, Benicio.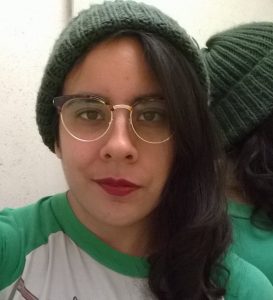 Adriana Marroquin
Project Manager, Field Notebook Digitization Projects
Biodiversity Heritage Library
Hometown: Germantown, Maryland
Favorite book: A tie between The Queen's Gambit by Walter Tevis and The Boy Detective Fails by Joe Meno
Fun facts: I am currently playing in four RPG campaigns and running a particularly spooky one. In the pockets of free time left over, I bake, craft, read and review comics, and plan Halloween costumes.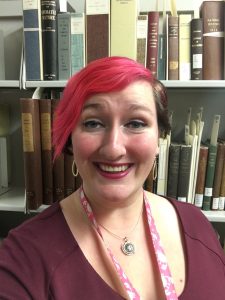 Allie Newman
Library Technician
Joseph F. Cullman 3rd Library of Natural History
Hometown: Wichita, Kansas
Favorite book: Too many! I'm quite partial to the 12th century Hunterian Psalter manuscript, but if we're talking modern books… I think I'll go with Douglas Adams' Hitchhiker's Guide to the Galaxy.
Fun facts: I only recently moved back to the States after several years of living in the UK, and I still call French fries "chips" accidentally sometimes. My favorite color is robin's egg blue, and my hair is often pink. I carry a bag of birdseed with me so I can feed the sparrows on my way to work.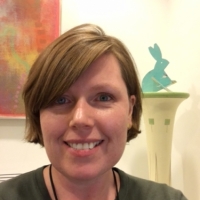 Jacqueline Protka
Branch Librarian
Hirshhorn Museum and Sculpture Garden Library
Hometown: Born in Ottawa, Canada to British parents; immigrated to the States at age 6; and raised mainly in Winston-Salem, North Carolina and Norfolk, Virginia.
Favorite book: Anne of Green Gables by L.M. Montgomery
Fun facts: My librarian origin story? Watching the cult classic Party Girl.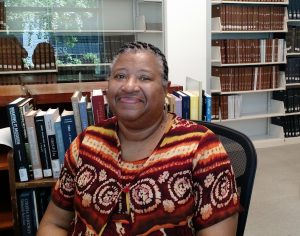 Patricia Reid
Library Technician
American Art and Portrait Gallery Library
Hometown: I was born in Washington, D.C. and lived there up until twelve years ago when I moved to Maryland.
Favorite book: My favorite book is Hope for the Flowers by Trina Paulus.  It's considered a children's book, but the message is for any one at any age.
Fun fact: I am a collector. My biggest collection is books – I own about 3,000 of them. I also collect ceramic masks, figurines (angels and ballerinas), lighthouses, stamps, comic books, trading cards, and images for that day in the future when I will have time to create collages.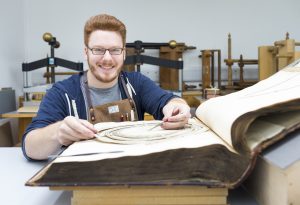 Noah Smutz
Book Conservator
Preservation Services
Hometown: Kansas City, Missouri
Favorite book: The Harry Potter Series
Fun facts: I make delicious whole wheat maple chocolate chip cookies.
Save
Save
Save
Save
Save
Save
Save
Save
Save