According to the author's text in The Home Decorator and Color Guide (1939), the images in this booklet,   "are not meant to be examples of what in any absolute sense is best in architecture and decoration. Some of them are houses that I'd like to live in; some,  that I'd like to visit; all are houses I'd like to see. They suit my fairly average taste. That may be summed up as follows: Houses that are unpretentious; that fit their regional environment and site; …and will mirror those who live in it; comfort and convenience in furnishings; and such harmony And taste in the decorative decorative schemes as, like quiet music, will bring peace to the spirit."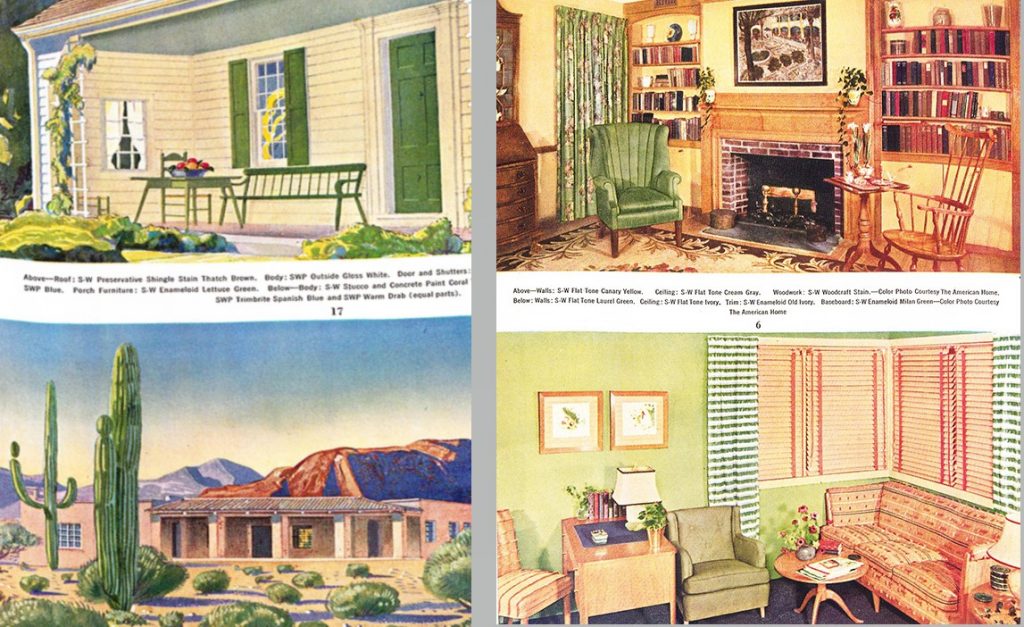 The Cooper Hewitt Design Library's scope of collections is centered around the decorative arts and design. We have source materials for interior design and decoration that go back to antiquity, which still inspires designers today.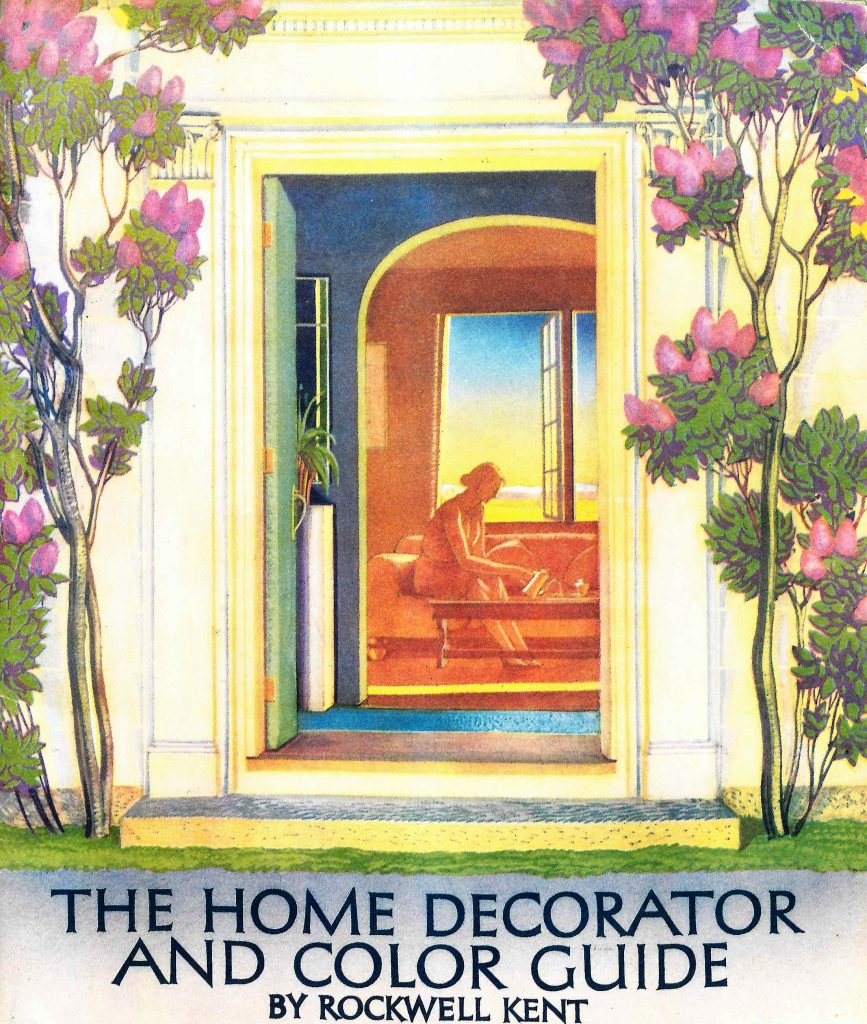 Rockwell Kent is famous as an early American modernist painter, printmaker, illustrator, writer, sailor and adventurer. Like many artists he did commercial and decorative work in order to earn money and pay the bills. The Cooper Hewitt Library has some examples of this commercial work –  designing dinnerware, murals, bookplates, and this interior design guide, illustrated with watercolors and photographs.
The booklet is ultimately about buying Sherwin-Williams paint and wallcoverings, but the text reflects Kent's opinions and is full of anecdotes on furnishing and decorating in a humorous narrative style.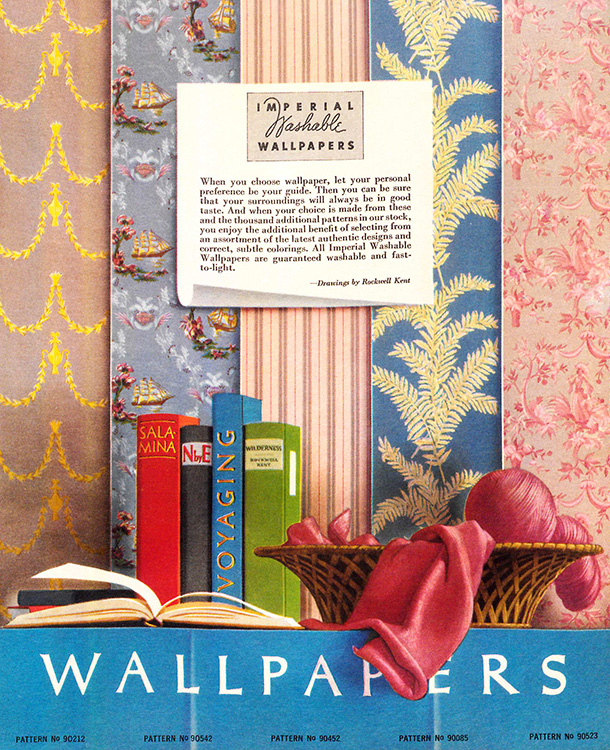 He built or fixed up houses to live in with his family all over the United States and the world. New Hampshire, Greenland, Newfoundland, Vermont and Alaska and Ireland. In a small abandoned house in Newfoundland: "Old lilac bushes stood around the house; their showing wallcoverings by Sherwin Williams. The background was the bay; lilac and blue. The house pure white! The doors I painted peacock green all except one which, for the fun of it, I painted pink."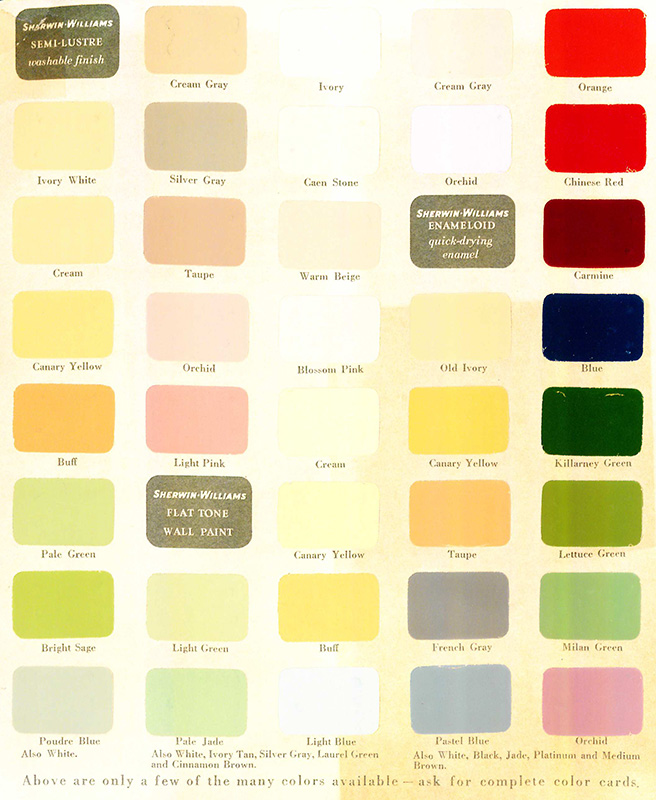 Kent's emphasis in these reminiscences is that "about life in general I may venture this–this from my heart: First own a house. Then make that house be HOME." Good architecture, good taste in decoration is what makes an honest, comfortable, and peaceful atmosphere. He painted the outsides, insides and the furniture he built with colors that created the ambience of the house he wanted, depending on where it was.
This booklet offers color schemes for both interiors and exteriors with paint color guides and interiors. In all of the places he lived in during his travels- "tents, caves, shacks, and palaces, that where it has been his right to fix such dwellings up…to make them be like home, I have. That has been a passion of my life."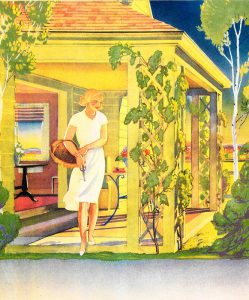 Save
Save
Save
Save
Save
Save
Save
Save
Save
Save
Save
Save
Save
Save
Save