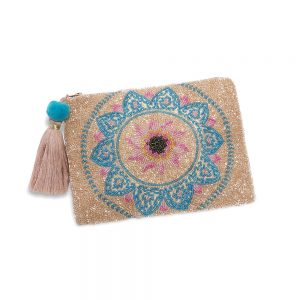 The Smithsonian Libraries Digital Library contains over 10,000 digitized books, journals and manuscripts from the Libraries' physical collections. From those, about 15,000 individual images are available in the Image Gallery, where they are assigned relevant keywords and collections for easier browsing and searching. The Image Gallery is a great resource for researchers and teachers, but recently it has found a new audience – the product designers of Physician Endorsed.
Physician Endorsed, a company that specializes in fashionable skin and eye protection such as hats and scarves, recently became a licensee with Smithsonian Consumer and Education Products, a division of Smithsonian Enterprises. In this relationship, the company finds inspiration in the resources of the Smithsonian for commercially viable product ideas and a portion of the proceeds from these products benefit the Institution.
In the past, Smithsonian Libraries images have been used as inspiration for calendars, rugs and even weather vanes. Physician Endorsed new line with the Smithsonian allows you to bring a bit of the Libraries' collections home to your very own closet. The line, which also draws from other Smithsonian units including the National Zoo and Freer Sackler Gallery, features bags and scarves with elements from Smithsonian Libraries images.
Physician Endorsed discovered plenty of design fodder in the Libraries' Image Gallery. Company founder and designer Elissa Margulies said:
You had me at Search! The Smithsonian Library is a designer's dream.  For me, as a collector of textiles, and lover of decorative arts, it was particularly exciting to "wander" through the image gallery results from every Search.  Using key terms related to fashion and current trends helped to build the collection. The results you get are only limited by your own imagination.  The more you search, the more you find.  It's like a treasure hunt. For example, right now, Western and Cowboy looks are hot. Our Library search brought us to Muellers Stockmen's Supplies Catalog No. 152 . This helped to inspire our Durango beaded bags. A search of the term "Stars" brought us to Ballooning, or, Up amongst the stars. This illustration became the inspiration for our Stella hat.
Products from the Smithsonian line should be available soon where Physician Endorsed products are sold.