It's an enormous opportunity and a personal thrill to join the pan-Institutional Audiovisual Media Preservation Initiative (AVMPI). I'm excited to explore and work with some of the collections our team will digitize, preserve, and help to make accessible. As the Audio Preservation Specialist for AVMPI, I'm eager to ensure audio collections held here at Smithsonian Libraries and Archives – and across the broader Smithsonian – will be available in the future, as the initiative moves forward and fulfills its goals.
My interests in recorded sound preservation stem from my background as an audio engineer and musician, working in record stores, radio, live sound, and recording my friends and community. Socializing with "sound people" and learning about their interests has always been one of the most enjoyable elements of working in the audio world. In my travels, work, and crate-digging adventures, I've realized that so much of our recorded sound heritage has an incredible story to tell. In many cases, the most fascinating material never resurfaced beyond its original release format, did not get the full-scale production it deserved, or was on entirely non-commercial media in an archive. Preservation work felt like a great way to combine my audio engineering skill set with my interest in preserving these stories.
I arrive at the Smithsonian with some experience under my belt at other cultural heritage institutions, a digitization vendor, and academic libraries. My beginning as a career preservationist happened to start toward the beginning of recorded sound itself. I handled audio materials working as a volunteer at the Thomas Edison National Historical Park audio archive, which was close to my childhood home in New Jersey. Through digitization, some cataloging, and watching curator Gerald Fabris work, I had my first glimpse into what it looked like to meet best practices and keep things organized. From there, I was hired at a preservation vendor that was facilitating bulk digitization for Edison materials. I led the quality control team and learned about more complex workflow development and iteration. Acting as the final checkpoint for many incredible projects, including some Smithsonian work, I learned about metadata and transfer errors. After my time at the vendor, I moved to the University of North Carolina to perform audio preservation and reformatting under the leadership of the top-notch team at the Southern Folklife Collection. While at UNC, I obtained an Information Science master's degree, which bolstered my understanding of many of the more formal information processes that happen in a large organization. I had a wonderful time working last summer as a Junior Fellow at the Library of Congress working with Kate Murray on the Sustainability of Digital Formats website — this provided some fantastic insight into practical elements of digital preservation and file format structure. Prior to arriving at the Smithsonian, I was in Columbus, Ohio, leading the beginning stages of The Ohio State University's audiovisual digitization and preservation program.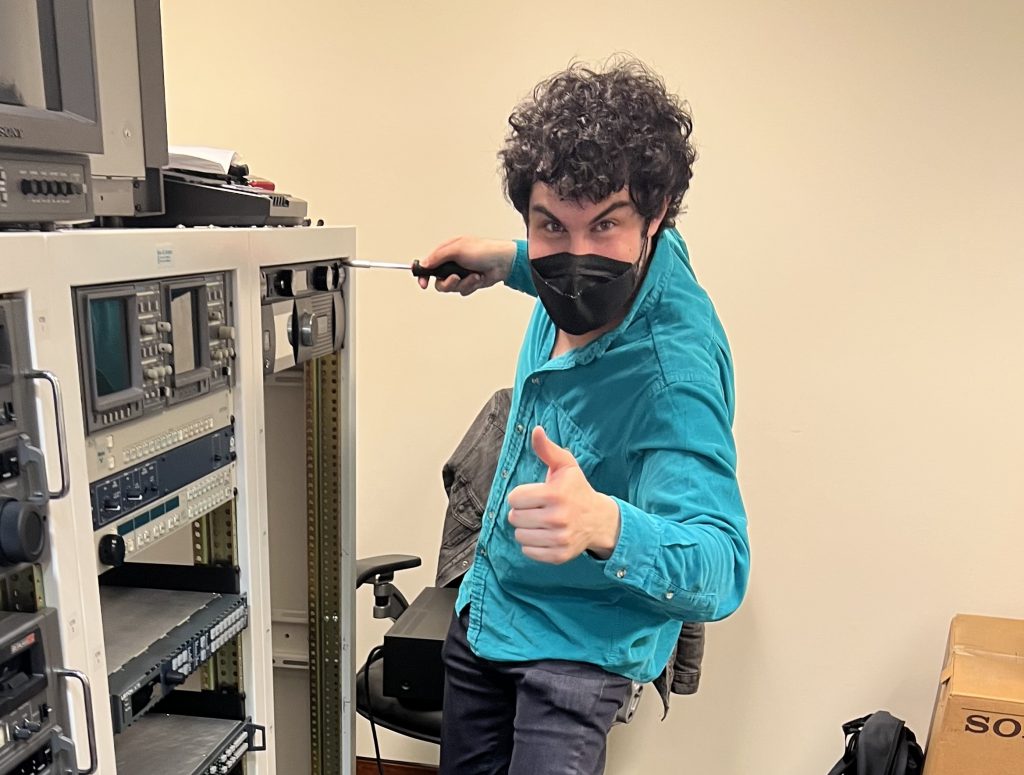 In my new role as Audio Preservation Specialist, I'm tasked with handling and facilitating the stabilization and preservation reformatting of many pieces of material — tapes, cartridges, discs, cylinders, belts, and more. I'll also develop and undertake quality control for our audio digitization processes. AVMPI's goal of serving as a centralized resource means that some of my first priorities are to shape unified standards and workflows, such as file embedded metadata and tape baking and cleaning. I have also been evaluating much of our audio equipment and performing minor repairs to ensure AVMPI obtains quality reformatting results. I hope to serve as an advocate throughout the Institution for its audio collections, building upon the great work already happening at Smithsonian in this domain, with many of our Task Force members providing helpful advice and context. Collaboration across the Institution with Smithsonian staff across AVMPI's various labs and priorities will be a key part of supporting the Initiative.
I have encountered many moments that resonate personally with why I (and, I'd imagine, many of us) make careers out of preservation: recordings of people who may have known relatives of mine; rare documentation of important historical events; incredible multitrack recordings and demos of some of my favorite music; fascinating technological experimentations in the concept of taking moving air particles and wrangling them into some other domain — whether it be grooves, tiny magnetic specks, or light.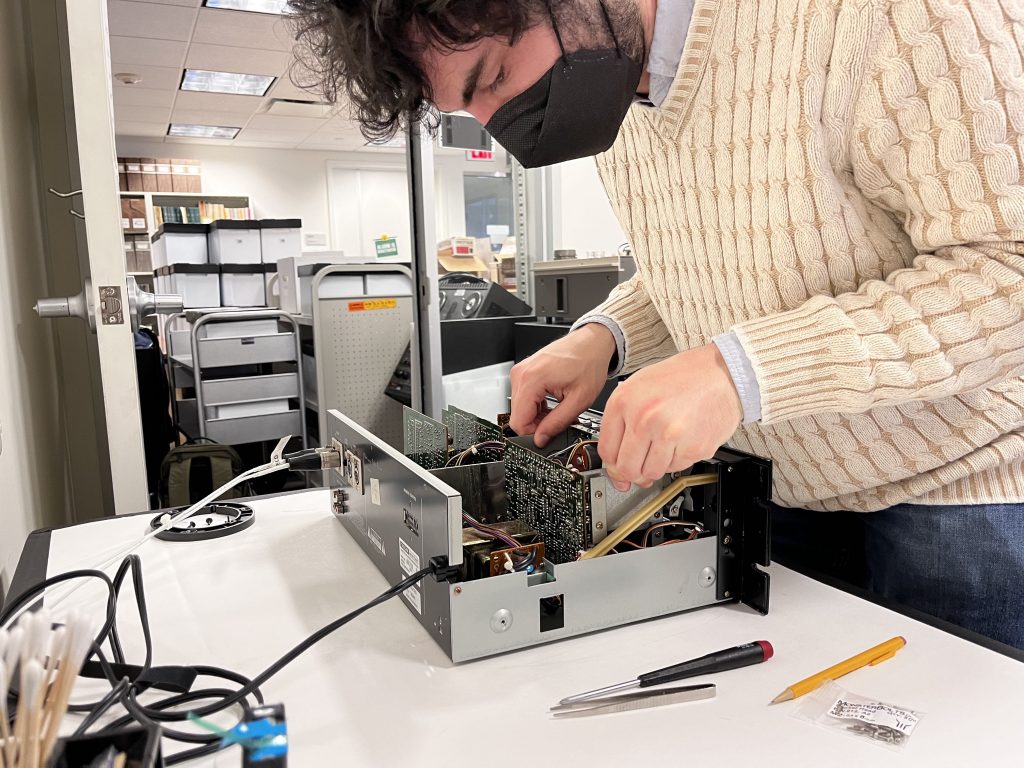 One of my strongest passions in this field is extending our preservation practices into the technical information necessary to perform this work. Ensuring the longevity of specialized knowledge surrounding the unsupported legacy equipment we use to migrate our audiovisual cultural heritage is an urgent need. As a "digital native" who came of age in an era of less mechanical parts and more microscopic, surface-mount components, I am grateful to mentors and engineers who are willing to pass on important skills. Much of this is facilitated through several organizations full of wonderful people, such as the Association for Recorded Sound Collections, the Audio Engineering Society, and the International Association of Sound and Audiovisual Archives. However, as folks retire and this information leaves the field, it is becoming apparent that we need to actively collect technological information and make it accessible in innovative ways to combat "degralescence." This is important, especially so that those without the resources of major institutions can retrieve information from obsolete carriers at high quality. Skill-sharing, organization of information, and documentation are crucial to this, and I hope to make such tasks part of my work here at the Smithsonian.
I look forward to sharing some wonderful digitized material, fun technical challenges, and more from AVMPI in future blog posts!