The Smithsonian joins the Flickr Commons project on June 16!
The Smithsonian Libraries provided a selection of photographic portraits from the Dibner Library of the History of Science and Technology. These portraits, part of a larger collection of over a 1,000 portraits in various media. The entire collection is available online at Scientific Identity: Portraits from the Dibner Library of the History of Science and Technology.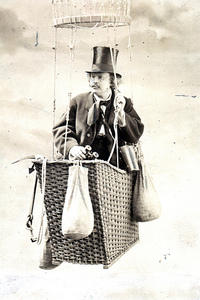 The Flickr Commons project provided Smithsonian staff an excellent opportunity for collaborations between our different museums and researcher centers. In addition to providing content, Smithsonian Libraries staff provided important technical and metadata skills which enhanced the success of the project.
Flickr Commons is a new forum created by Flickr for cultural institutions to share their photographic collections. The Smithsonian was the fourth institution to join, following the Library of Congress, the Powerhouse Museum, and the Brooklyn Museum.
About the Dibner Library Portrait Collection (Ron Brashear)
The scientific portrait collection in the Dibner Library was assembled by Bern Dibner. The images formed a fine research complement to the thousands of scientific books and manuscripts in the library he founded, the Burndy Library. Bern Dibner obtained most of the portraits during the 1940s from print dealers in Boston, London, and Paris. By 1950 he had about two thousand images and arranged them into ten scientific subdivisions: Botany, Chemistry, Electricity, Geology, Mathematics, Medicine, Philosophy, Physics, Technology, and Zoology. The portraits are of various types: woodcuts, copper and steel engravings, mezzotints, lithographs, oil paintings, and photographs. Many of them are images that were printed as separate items, used as gifts to send to colleagues and admirers. The exchange of portraits among scientists in the eighteenth century became a very popular form of correspondence. A number of prints also served as frontispieces of books and, unfortunately, a few of the prints in the collection had originally been bound as pages in books and removed some time in the distant past.
(photo above left: Portrait of Felix Nadar (1820-1910), Photographer and Aeronautical Scientist; see the picture on Flickr or in Scientific Identity)