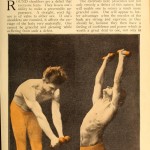 Greetings! This month, we have a look at a real gem in the Smithsonian History, Art, and Culture digital collection. Two volumes of a turn-of-the-century serial devoted to all things related to the human body and its maintenance: Physical Culture. At turns laughable and insightful, this title is a hoot  to page through. It features everything from workout tips to fad diets, diets meant to add pounds, mind you. For example, judging by the amount of ink it gets, the milk diet was very popular back in 1908. When adhering to a milk diet, the publishers warn, it's important to consume milk only. No solid food of any kind! So, don't add cheese, for example! It's kind of like a phlegmy protein shake diet!

The 1908 volume also features an exuberant damnation of the corset, from the synopsis:
"I publish herewith an article that I think will be more interest to men than to women readers. I am presenting it because I want men to understand the pitiful effects of corset wearing. I want them to learn that there is nothing admirable in a corseted waist: that it is murderous to womanhood, and destructive to all that is best and good in womanhood."
In addition to dairy advocacy and corset condemnation, readers can also find notes on building resistance to consumptive germs and germ theory, tips on mastication, Washington state's prescient ban on smoking, laughter as the best medicine, and perhaps most confusing to our modern sensibilities–a diatribe against pants. 
Enjoy!