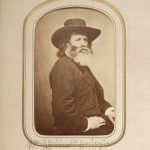 Charles Loring Elliott (born Scipio, NY, 1812; died Albany, NY, 1868)
At the time of his death, Charles Loring Elliott was one of the most well-known American portrait painters of the mid-19th century. The artist vertical file at the Smithsonian American Art Museum/National Portrait Gallery (AAPG) Library contains several contemporaneous multi-page eulogies and/or reminiscences on Elliott's life and career. In 1867, Henry Tuckerman claimed that Elliott had painted almost 700 portraits – a truly prolific life's work if indeed true.
Charles Loring Elliott was born in Scipio in upstate New York in 1812. His father was an architect and Elliott initially set out to pursue that profession, although he soon decided that he wanted to pursue painting instead.  Around 1829 he moved to New York City to develop his abilities and may have studied for a brief time under John Trumbell, one of the most famous American painters at that time. He moved back to upstate New York, and for about the next ten years he made his living as a traveling portraitist. He eventually moved back to New York City around 1839 and starting in 1844 began to exhibit regularly at the National Academy. His ability continued to develop, and he began to generate more renown for his portraits, with some judges at the 1845 exhibition declaring his work to be the best since the famed Gilbert Stuart. Elliott became one of the leading portraitists of New York and painted many prominent people including Matthew Brady, Henry Wadsworth Longfellow, and presidents Andrew Johnson and Ulysses S. Grant.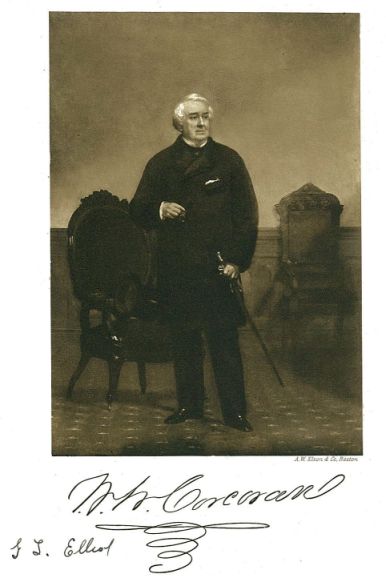 Near the end of his life, Elliott moved to Albany, New York where he died in 1868. His body was returned to the National Academy in New York City where he lay in state before being buried in Brooklyn's Greenwood Cemetery.
The National Portrait Gallery has five portraits by Charles Loring Elliott including those of Washington Irving and James Fennimore Cooper. The Gallery also has several portraits of Elliott himself.
This carte-de-visite of Elliott is taken from an album held in the collection at the AAPG Library. The photography studio is not marked, but the image of Elliott was apparently well-known since this image was used for an engraving in the December 1868 issue of Harper's New Monthly Magazine. In the same issue commemorating Elliott's life, it states "Apelles and Raphael, young Vandyck and old Titian, were waiting for their younger brother – the all-excelling Portrait Painter of the New York." Certainly today Elliott is generally not spoken of in same breath as these other famous artists of history. However, he continues to hold his own among the great portraitists of the United States.
Other resources from the AAPG artist vertical file:
L. Gaylord Clark. "Charles Loring Elliott." Lippincott's Magazine 2, no. 12 (1868): 652-57.
Thorpe, Thomas Bangs. Reminiscences of Charles L. Elliott, Artist: Published to Meet the Demand Not Supplied by the Regular Editions of the "Evening Post". [New York]: Evening Post, 1868.