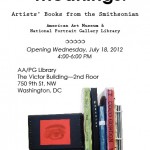 We often think of the book as a container of information. A book's text conveys meaning through reading. However, meaning can be expressed in other ways. Typography, ink color, blank space, paper, artwork, and binding also provide information to the reader about the artist's project. Featuring artists' books from the Smithsonian American Art Museum/National Portrait Gallery Library (AA/PG), this exhibit investigates the way that book artists use material and visual features to make meaning.
As part of the SIL Artists' Book Professional Development Internship, Amanda Meeks and Michelle Strizever have been working to develop the visibility of the hidden artists' book collections. Our project included improving access through refining cataloging practices of this special genre. During this time we had the opportunity to survey the collection at AA/PG. Each of us found several works intriguing; we explored and analyzed bookworks individually through research and writing. This started a conversation about what those works have in common: each work uses unique features, such as structure or materials, to convey content and meaning.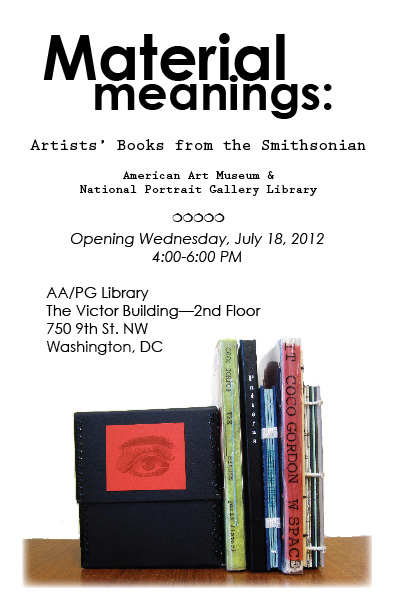 We hope that this exhibit will encourage viewers and researchers to visit the library and use the artists' book collection. Please RSVP to silaapg@si.edu if you would like to attend the opening of Material Meanings on Wednesday, July 18th, 2012. We will be available to discuss this project, the exhibition, and the collection over refreshments. If you enjoy our new blog series on artists' books, now is your chance to see a few examples from our collection in person!
-Doug Litts