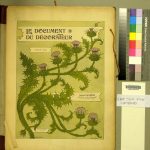 In 2011, The Cooper-Hewitt Museum National Design Library was awarded a $96,000 grant from the CCPF (Collections Care and Preservation Fund, an internal grant awarding source) of the Smithsonian Institution to conduct a condition assessment survey of approximately 4,000 items of its Special Collections. We've done many preservation and book housing projects over the years, with repairs and custom enclosures made when the occasion demanded, but we've never had the opportunity or plan in place to look at the condition of our Rare Book  collection as a whole before.
Les beaux épisodes de l'histoire de France / / dessins en couleurs de Marcel Jeanjean. qDC45.7.J43 1922
The survey was performed by 2 contractor book conservators over a one year period, using an MS Access database designed by Smithsonian Libraries staff. The sample size of 4,009 books was selected from over 6500 titles classed in SIRIS, our library catalog, as Rare (CHMRB), or (what we affectionately call) Medium Rare (CHMBRAD, or CHMSC (Special Collections). This was further divided by size into folios, quartos, regular and a handful of miniature sized books. The survey form was designed by me and SIL Preservation Services Head of Conservation, Vanessa Haight Smith, using other library surveys as examples, customizing it to include the questions and details we needed that we didn't find in our preliminary questionnaire form research.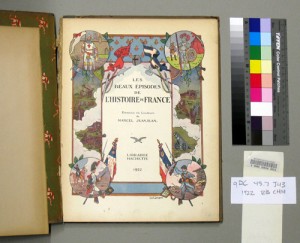 Our survey form was divided into 3 sections: Descriptive Data (bibliographic and physical), Item Condition, and Treatment Recommendations. We started with basic bibliographic information like Author, Title, Publication date, and Call number. The Descriptive part of our survey recorded the physical attributes such as current housing, type of binding, binding material, leaf attachment- the way the pages are connected in the book. The Item Condition part of the survey recorded whether or not there were loose board covers, damaged or missing book spines, deteriorating leather, soiling/dirt, brittle paper, or loose pages. The Treatment Recommendations provided repair, cleaning and preservation solutions that mirrored the problems reported for the books in the Item Condition section. Recommendations were also made for new or replacement protective housing- acid free boxes, envelopes, or custom made enclosures. Approximately 2,000 photos were taken documenting books (2 per book) whose condition rating was "Poor" or "Very Poor" for easy visual reference.
We had good news to report- our Overall Condition ratings (Good/Fair/Poor/Very Poor) indicate that only 20% of our Special collections books are rated Poor/Very Poor. Over a thousand images (2 per book) of every book rated "poor" or "very poor" were taken. Our conservators came up with 36 "Action Groups" that CHM staff could use to prioritize our future preservation/conservation strategies. These "Action Groups" are groups of books that form a collection in themselves, i.e. 19th Century Children's' Books, or Publishers' Bindings, or groups of books with similar conservation concerns and/or similar housing needs. Based on the results and recommendations from this survey, CHM staff and the staff of the Smithsonian Libraries Book Conservation Lab will follow through and decide how to proceed with treatment and work on how to obtain funding to do the necessary conservation work.
Elizabeth Broman, Reference Librarian and CCPF Grant Supervisor, Cooper-Hewitt Library