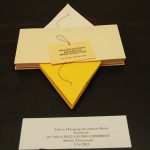 The Book Conservation Lab periodically receives artist's books from the Cooper-Hewitt National Design Museum Library with special housing needs.
The books are often very small, very large, made from unusual materials or irregularly shaped.  The latter was the case with Scott McCarney's "Yellow Hanging Accordion Book Structure."  This unique piece is rectangular in the middle and triangular at both ends.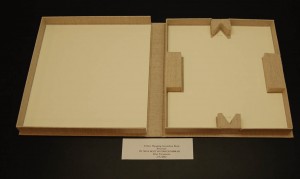 In order to ensure the safety of the object on the shelf, a sturdy double-tray box was made with special inserts to protect the unique structure of the book. The inserts were created using pieces if Ethafoam covered in bookcloth. The pieces of foam were hand carved to exactly fit the dimensions of the book.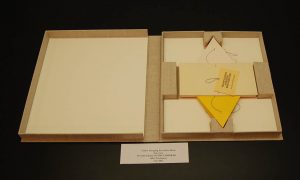 Housed in the box, the vulnerable tips of the triangular portion of the book are protected from blunting. The box will enable library users to enjoy the book for many years.