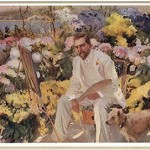 In addition to rich files housing a range of materials, artists are searchable in an online database and books, images, and periodicals are being digitized and made freely available to users worldwide. The Library also serves as a home for twenty research fellows each year, fostering the foundations for the next generation of American art scholars.
The Smithsonian American Art Museum & National Portrait Gallery Library relies on private support to sustain scholarship at this level. Visit us online to contribute to our ongoing efforts or add to our collection by purchasing an item on our wish list. Any contribution is greatly appreciated!
Want to become more involved with Smithsonian Libraries? Sign up to receive our newsletter and invitations to our special events! Click here or call 202.633.2241.