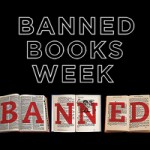 This week, September 30th to October 6th, marks the 30th anniversary of the American Library Association's Banned Books Week, celebrating the freedom to read.Banned books are those that have been removed or restricted from libraries or schools based on objects, while challenged books have only been threatened. Banned Books Week seeks to call attention to censorship, promote literacy and celebrate reading.
Think you haven't read a banned book? Take a look at this surprising list of classics that have been challenged, including To Kill a Mockingbird, Of Mice and Men and The Great Gatsby. We hold many banned or challenged books in our own collection!
In honor of Banned Books Week, tell us: What's your favorite banned book?

(Images courtesy of ALA's Free Downloads.)