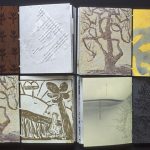 Anything that comes into being by way of human creativity and artistic expression often includes imperfections. Sometimes the flaws are so subtle that they go unnoticed by everyone but the perfectionistic artist laboring over their creation. The process of making art, especially artists' books, requires a great deal of emphasis on attention to detail (if you ask almost any book artist); there are many opportunities for mistakes along the way. Slurring at Bottom: A Printer's Book of Errors (2001), was conceived by book artist and publisher Robin Price.
This work expresses the playful and technical side of printmaking and book art that viewers usually miss out on. All too often, book artists also forget the joy and playful nature of creativity because they may be too caught up in the details of their craft. Robin Price set out to intentionally embrace the elements of chance and surprise in the high-craft-world of artists' books.
The American Art Museum / National Portrait Gallery Library holds a copy of Slurring at Bottom within the artists' book collection; it is currently on display in the library. The selection of books on display have several common threads including: chance, surprise, unique materials and techniques, limited editions, and collaboration among artists.
There were eleven artists who collaborated with Robin Price on this project in all; each provided a unique voice throughout and it is this element that is most engaging. At first glance, one notices the layers of text, image, and color on the pages. Each page went through several alterations, but all came from previous Robin Price book projects — reject or work-up sheets, or edition overs. Sheets were then made into palimpsests by sanding the text and painting or staining over the original content. The text becomes illegible in some spreads, but Robin's original work entwined with several visual styles from other artists provides rich content and a unique reader experience.
As an appreciator of the process of art making, I wanted to go beyond the colophon within the book and talk to Robin Price myself about her creative approach to this work. It is also interesting to talk to artists about their process in terms of the extensive research that goes into a project from start to finish and learn how research informs and inspires creativity.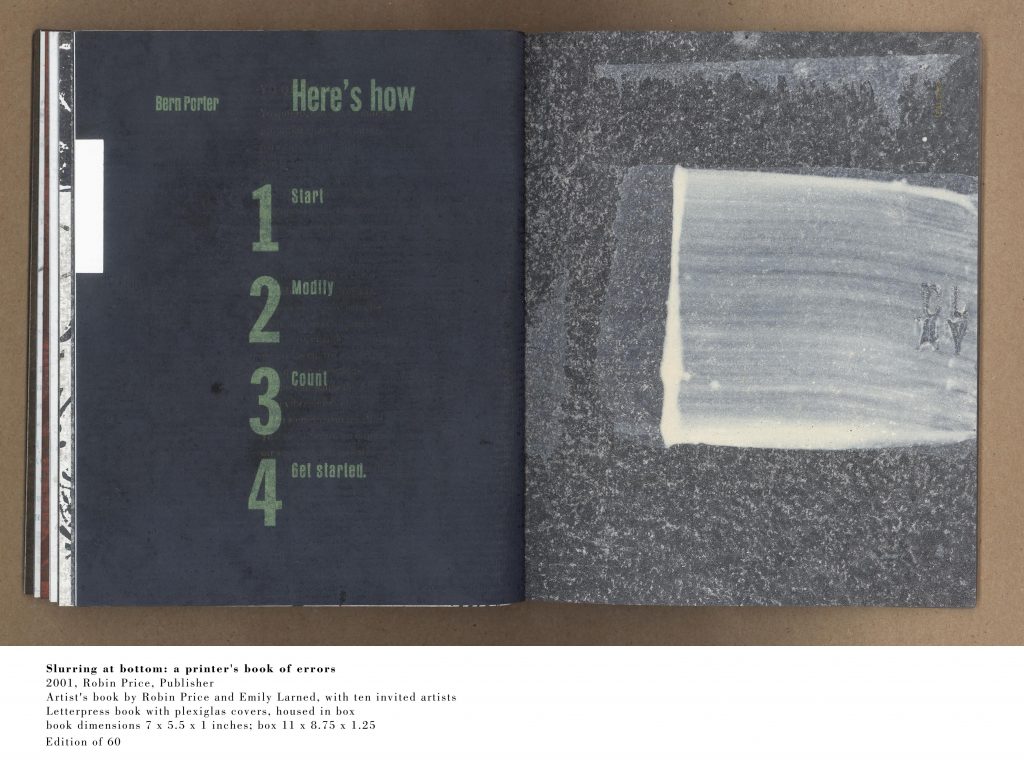 This interview was conducted over the phone on July 6, 2012.
Amanda Meeks: This is not your typical narrative, yet Slurring at Bottom tells its own story about chance and collaboration. Since the text is not arranged into a traditional narrative, what relationship did you envision the text would have with the visual elements?
Robin Price: Indeed, I envisioned randomness and surprise for the makers, as well as everbody else [the viewers]. Only the first and last of the six signatures are collated the same in every copy; we knew that we would get unexpected occurrences in between. The idea was that no two copies in the edition of 60 would be the same, both in terms of collation and what each of the ten participating artists did to their provided sheets, one of which was included in every copy. There is quite a variety in the sheets from the 10 individual artists and we knew that any one spread would be unique. So the point I'm trying to get to is that since the texts cover a wide variety of content (about chance, chaos theory, John Cage, friendship quilts, wabi-sabi, etc) we wanted to embrace the randomness of varied collation and let chance determine how the texts interacted with all the different artwork by the individual artists. We tried to make everything about the process of making the book mirror the content, and this affected the reader's non-linear journey through the book. Well, strictly speaking, because it is a codex, it's only non-linear — or random — in comparison to encountering a different copy. But because I made it clear in the colophon that no two copies are alike, hopefully that is a guide for the reader in considering the ordering of content.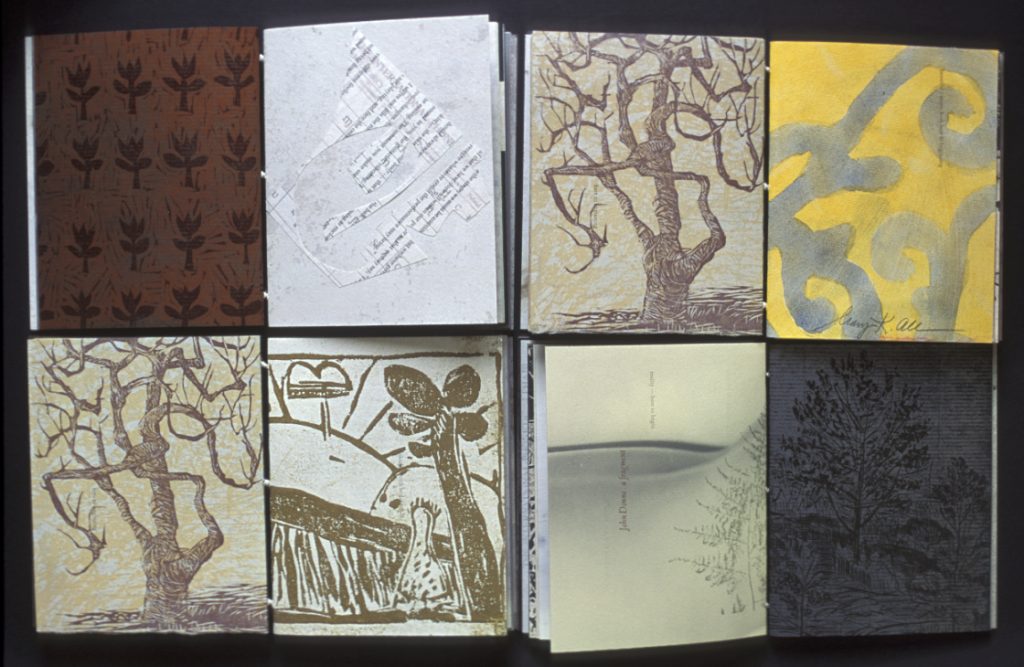 AM: How do you typically use narrative in your work?
RP: That word isn't in my head very often; I think of sequence more than narrative. I try to think about the flow of the content and always really try to keep in mind what it would be like for someone viewing the book for the first time.
AM: "In memory of Jim Trissel, and his teaching" appears in the first couple pages; can you elaborate on how Trissel influenced you?
RP: On some copies, that line is almost invisible, due to the variety of staining on the sheets. That was fine with me because it didn't need to be loudly announced; it was very personal. Something of a turning point in my career began to occur in 1997, when Jim invited Betty Bright and me (first time for me to meet Betty) to be at Colorado College for the first 2-3 days of his artists' books class. It wasn't until later, after he died, that I began to realize the full impact he and his work had on me. One thing I really admired about him was that at age 47 he taught himself how to print, because his college wanted to start a letterpress program and he was the only one willing to take on that endeavor. He worked primarily as a painter before that, and taught both studio & art history classes. He really got students involved in production on the Colorado College press books. Later I learned from his daughter Margaret that he allowed her to fold press sheets as early as age 8. My own experience at a similar book arts program [University of Southern California Fine Arts Press, under the direction of Gerald Lange] was such that beginners / students were never involved in fine-press production, and one strives for perfection in the craft almost to the exclusion of anything else. Student involvement changes the standards of production a great deal, and it was a huge gift to those students to allow them to work on the books. He was embracing the community, among other things. Back in 1997, looking at the Colorado College press books, I was almost blinded to all the exciting, experimental things about them because I could only see the (occasional) imperfections in craft. At that time, I had not yet consciously started questioning my own perfectionist pursuit of craft, but it was that very questioning – and realization of the negative aspects for me – that led directly to Slurring at bottom. I felt almost trapped in a cage of high craft, and I needed something very different. I started reading a lot by and about John Cage, and knew I wanted to find my own way of embracing the use of chance in my work. I needed to find out about purposely relinquishing control – in a somewhat controlled way, of course!
AM: As far as collaboration with other artists and writers goes, what are the benefits and the drawbacks?
RP: Oh, well, I'll go right back to Slurring at Bottom. The friendship quilt text that Emily [collaborator Emily K. Larned] wanted to include had to grow on me. I kind of said "eh" at first; only later did I really celebrate the fact that that text was included. Since it was a collaborative venture we did make a lot of decisions together and the total content of the text was a selection we made together, though more of it came from me. I really love the surprises that can happen and the results from a synergistic relationship where neither or none of the artists really know what the final product will end up being. The democratic nature of letting others be involved and relinquishing control is evident in Slurring. We sent each artist 62 or 63 sheets in order to keep them from editing out too much [for the edition of 60] and we did not allow ourselves to edit excruciatingly, either.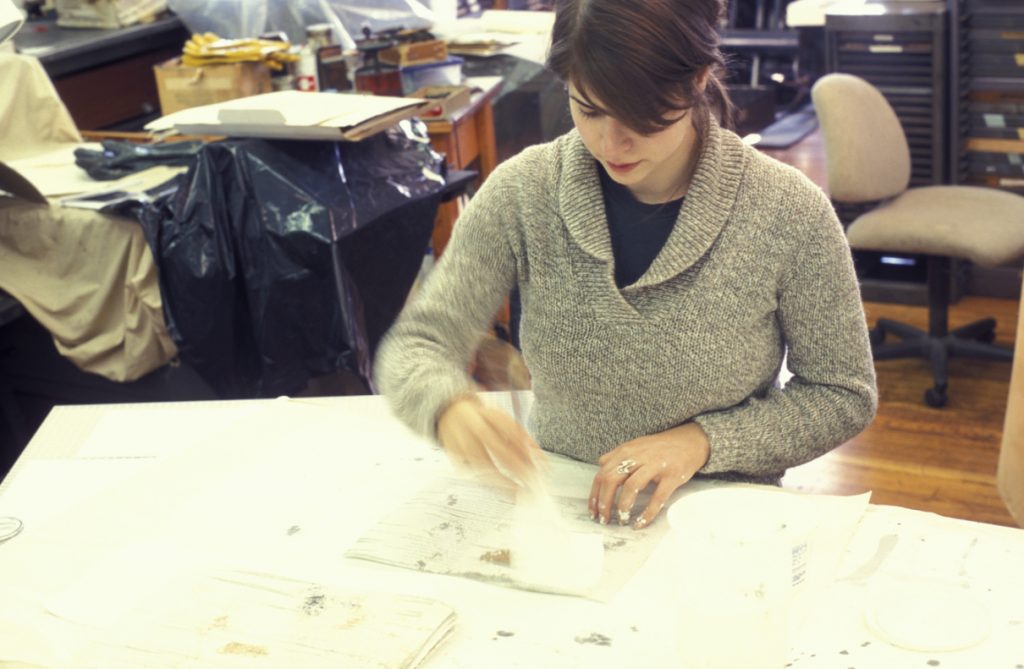 When I work with another visual artist I'm not remotely interested in setting out with an exact finished product in mind and this limits who I am willing to work with. Work is edited and heavily discussed along the way and with that kind of process you allow yourself the element of surprise with the end product, in comparison to where you both began.
Another element I enjoy is getting to be inside another creative person's head, whether writer, musician, or visual artist. Even if I'm just presenting a text (in something like a traditional fine press point of view) I want to present it in a way that honors the original author's ideas and style. So really getting out and away from self-expression and personal visual style is important to me.
Cons? There aren't many. I'm really selective about who I work with and there has only been one person who I grew to dislike during the process but we worked well together. That was a good learning experience for me, to see that those two things can be separated.
I don't always want to collaborate, it is a continuous cycle for me of going back and forth between relatively solo projects, such as 43,[43, According to Robin Price, with Annotated Bibliography, 2007-09] and collaborative projects.
AM: Though your books are incredibly whimsical and playful, it is clear that you still approach projects through doing extensive research; can you describe your research process?
RP: Oh, that's a good question. Particular content of any book guides me in a meandering sort of way. I only feel comfortable with proceeding on crucial decisions when I have done a lot of research. The flipside of that is it can also be a place where I get stuck –where I just want to know more and more and more and it can feed into the fear of jumping in.
AM: Does research inspire you in unexpected ways? If so, how?
RP: Definitely – My general MO is to stay open as long as I can about all of the choices I'll eventually have to make in presenting the content I'm working with. And I also don't go too far with any one design choice without trying others first. In other words, I rarely get committed to any particular design decision without later changing it based on research and other production trials.
AM: Where do you do most of your research? Any favorite libraries or tools?
RP: Well, I certainly visit Wikipedia as a start. Sometimes I use the library, sometimes not. I will often ask special collections librarians to show me what they have in contemporary fine press or artists' books pertaining to whatever subject matter I'm working with; that exploratory research plus looking at related historical materials has been very helpful for many of the projects. And of course if I'm working with someone who is alive there is a lot of direct communication. I have a really rich stash of letters from John Gilgun (author of The Dooley Poems, 1991), telling me some of his thoughts while he was writing the poems, which is a treasure. I'm currently working on a book by Yusef Komunyakaa called Love in the Time of War, which investigates how one can be in love and at war at the same time. So for that book, I've met him a few times and talked about the poems and their presentation, I've read a bunch of biographies about him, interviews, and lots of his other published work. I did a little informal interviewing with him and got some information that way, too.
AM: Could you tell me about your most recent or in-progress artists' book?
RP: The deluxe edition of 43 is what I'm most proud of right now. I'm almost never interested in deluxe copies in which it is simply a difference in materials or an extra set of prints, though I understand why it's done from a fine-press perspective. There's nothing exciting about that in terms of content, though. I really wanted to expand on the content of 43 in ways that weren't possible with the standard edition. And I wanted to truly collaborate with Daniel Kelm. I've worked with Daniel several times before but in a somewhat traditional way of already knowing most of the materials I wanted to use, having some basic ideas about structure, etc, so this time we really worked together to develop the project. I wanted take the basic elements and concepts from 43 and make a whole new container but keep the book essentially the same. We decided on a box structure that's a little confusing for the reader to get into and then he came up with the idea of having the container "tumble" open to imitate the flow of the river in the book. My primary contributions were the visual elements (including the collage on the front), though there was some back and forth exchange of ideas throughout. I pushed myself further with this edition than I have before. It's one of the few times that I felt like if I had all the time in the world to do it over again I couldn't possibly do it better.
End of Interview
All images are compliments of Robin Price.
For more information please see these resources:
Counting on Chance: 25 years of Artists' Books by Robin Price, Publisher (2010).
Robin Price Publishing