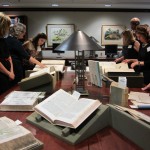 It's been a busy fall for the Smithsonian Libraries!
In tandem with the National Book Festival, the Smithsonian Libraries hosted nine renowned authors at an intimate dinner on Saturday, September 22nd. The distinguished group included Geraldine Brooks, Charlaine Harris, Tony Horwitz, Katherine Neville, Christopher Paolini, Lisa Scottoline, Francesca Serritella, Sally Bedell Smith, and R. L. Stine. Read on for our upcoming events!
Upcoming Opportunity for Writers 
On October 18, internationally acclaimed New York Times bestselling author Steve Berry and the Smithsonian Libraries will join forces to present a writers' workshop, Lessons from a Bestseller, to teach general writing skills while benefiting the Rare Books, Special Collections and Preservation Programs at the Smithsonian Libraries.
The workshop, at the National Museum of Natural History, will run from 9:30 a.m. to 3:30 p.m. followed by a rare books tour of the Joseph F. Cullman 3rd Library of Natural History. A reception with Steve Berry will be held from 6:30 p.m. to 8:30 p.m. in the Evans Gallery of the National Museum of Natural History.
For online registration, please visit http://donate.sil.si.edu/product-p/berry-workshop.htm.
Please contact the Smithsonian Libraries Development Office at 202-633-2241 or SILRSVP@si.edu.