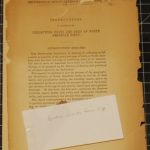 A constant challenge in the Book Conservation Lab is housing items of disparate sizes together. Recently we faced this issue in re-housing the pamphlet "Instructions in Reference to Collecting Nests and Eggs of North American Birds." The pamphlet came to us in pieces in an envelope bearing the name of former Secretary of the Smithsonian, Alexander Wetmore.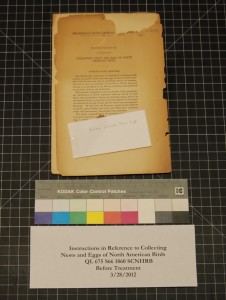 The manila envelope is acidic so we did not want it to have further contact with the pamphlet pages. However, the envelope indicates the provenance of the item and needs to be retained for research purposes. The pamphlet pages were pieced back together and re-sewn. Finally we created a new, acid free pamphlet case. The challenge was how to house the pamphlet and the envelope together. Even folded in half (how the envelope came to us) the manila envelope was still larger than the pamphlet case.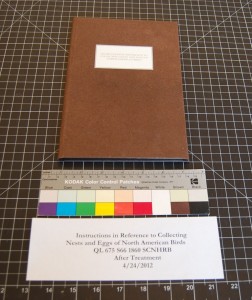 The solution is a custom enclosure larger than the new case but with Ethafoam padding so that the pamphlet does not move around in the new enclosure. The manila envelope is in a Mylar L-Sleeve (adhered to the enclosure with double sided tape) ensuring no direct contact between the acidic envelope and the new pamphlet case.