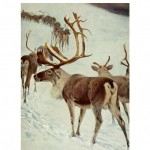 The Biodiversity Heritage Library (BHL), a consortium of institutions working to digitize biodiversity literature and make it freely available online at www.biodiversitylibrary.org, is helping scientists identify and conserve life on Earth. Scientists have long considered that inadequate access to the published literature is one of the chief impediments to the efficiency of research in the field. By removing boundaries to access, BHL is strengthening scientific and conservation efforts on every continent. The BHL currently provides access to nearly 40 million pages and over 50,000 images, free and available to the public online.
Here are some testimonials from BHL users:
"The BHL website is an extremely valuable resource and is crucial to my research."
"Being in a small town in Africa made accessing literature especially difficult, but I no longer feel so disadvantaged with the advent of BHL."
"BHL makes my research so much easier! I absolutely love it. A million times thank you!"
You can support the BHL by visiting the online donation page. To learn more about BHL, try it out! Visit http://www.biodiversitylibrary.org and search the site to see what you might find.