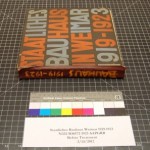 The conservation lab received, from the American Art Museum/National Portrait Gallery Library, a first edition of the first Bauhaus exhibition catalog: Staatliches Bauhaus, Weimar, 1919-1923.  In addition to being a rare copy of this catalog, it is inscribed to the painter Werner Drewes by his Bauhaus teacher, Wassily Kandinsky.
The book was in disrepair with the covers detached.  A spine "replacement"  fashioned out of a piece of electrical tape had left tape residue on the Herbert Bayer designed cover. Additionally, the paper used for the catalog was highly acidic and discolored and the acidic clay coated plates were chipping.
Since portions of the textblock were already detached, the decision was made to dis-bind the textblock completely so that it could be re-sewn. The textblock was also highly acidic so the text pages were treated with Bookkeeper, a spray de-acidification product.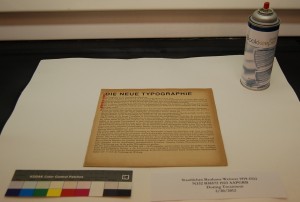 Repairs to the damaged plates were made using Japanese paper adhered with wheat starch paste.  The now intact and de-acidified pages were then guarded with Japanese paper and re-sewn using the original sewing holes.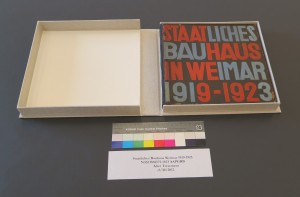 The boards were re-attached using toned airplane linen as the new spine piece.  A box was created to house this still fragile item. Finally, I solicited the advice of German relatives and friends to assist in the translation of Kandinsky's difficult to read handwriting: "To dear Mr. W. Drewes, In commemoration of the Bauhaus times Sincerely, Kandinsky,  December 24, 1932."