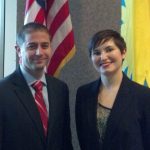 The Smithsonian Institution Mentorship Program is an annual 9-month program dedicated to "developing leaders throughout the Institution" through professional development in the areas of networking, interpersonal skills, coaching, and institutional engagement. This past year, 60 participants, consisting of 30 mentors and 30 "mentees," were selected as a result of a competitive application process. In addition to a curriculum of monthly training courses, the program provided rare opportunities for behind-the-scenes tours and meetings with notable leaders across the Institution including Secretary Clough. Mentees worked with their mentors to achieve a set of personal goals through a variety of learning opportunities, thus each experience of the program was unique. Smithsonian Libraries was proud to have 2 mentees in the 2012 Mentorship program, Bianca Crowley and Dave Opkins. Below, each will describe their experiences working with their mentors and their key takeaways.
Bianca Crowley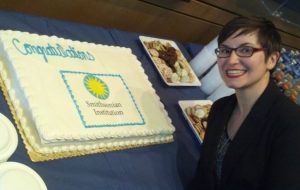 My time working with Amy Karaszia, Director of Individual Giving with the National Museum of American History, helped me to improve my time management, communication and leadership skills. At the start of the program, mentees were tasked with finding our own mentors based on their application profiles and I picked Amy because she wrote about overcoming the challenges of being "the young person in a position of authority." In my first career position as Collections Coordinator for the Biodiversity Heritage Library, I am frequently leading meetings with colleagues far more experienced than myself. Working with Amy I learned various strategies for time management and being appropriately prepared for (almost) anything, which has given me the confidence to know that I can be an effective communicator and team builder. My mentor helped me secure invaluable opportunities to meet with exemplary leaders at SI in the areas of project management and communication. These meetings impressed upon me the critical importance of timing and practice. The biggest lesson learned for me was the realization that leadership, thought largely to be an art, is also a science with skills and methodologies that can be acquired and cultivated with the appropriate guidance and space to explore what it means to be a leader within your own position. As I grow in my career, I look forward to sharing what I have learned and the opportunities to someday supervise others and serve as a mentor myself.
Dave Opkins
The reason I applied for the mentorship program was that I wanted to work with an experienced staff member who would help me improve my work skills, expand my professional network, and help with my career advancement. Since my job focuses on Finance and Administration, I was very excited to select Salim Mawani, who is the Manager of SI's Financial Policies and Procedures Division in the Office of the Comptroller. Salim is extremely knowledgeable about Smithsonian operations, has great ideas, and is a very likeable person.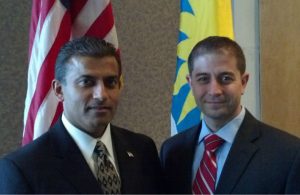 For me, the most valuable aspect of the program was the number of professional introductions that Salim helped me make. Through about ten introductions, I met with a number of the Smithsonian's Finance & Administration executives and a variety of managers from our museums, Smithsonian Enterprises, and the Office of Sponsored Projects. These meetings had three outcomes. Firstly, by learning about what other people do, especially on the executive level, I was able to better understand how to do my job, as well as my role in the Smithsonian's overall operation. Secondly, the underlying message from everyone I met with was the importance of collaboration, team-building, and information sharing. This touches on the first outcome; since we work on such large-scale projects, it is especially important for us to work well together and to understand how our work impacts others. Finally, I was able to create a working relationship with a number of these folks.  This has translated to having resources to go to for information, gathering speakers for the Council of Administrators (which I co-chair), and most excitingly, being invited to work on some inter-departmental projects.
Conclusion
Although the program is now over, the relationships established will continue to foster an energy of professional growth across the Smithsonian Institution. Bianca and Dave each appreciated their own experiences of the mentorship program and agree that it was an extraordinary opportunity to learn, network, and develop professionally. They are very grateful for the time invested in this program by the Smithsonian, the Office of Human Resources, their supervisors, and their mentors. If you have had the opportunity to mentor or be mentored through your work, please take the time to let us know!