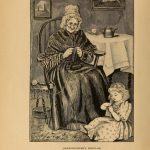 In 1892, for 50 cents or 2 shillings, you could have purchased this month's Cultural Heritage Library selection and wowed all your friends with the latest and most comprehensive guide to knitting on the market to date. The Art of Knitting (1892) was published as a companion to The Art of Crocheting and contains simple instructions for beginners as well as more complex fancy stitches and patterns for more seasoned craftsmen. As it stands, however, we are well into the Electronic Age and you can impress your friends and save your cash by downloading this title for free from the Internet Archive!
Fun fact: Knitting was a prestigious and male-dominated occupation 500 years ago. The 1527 Knitters Guild of Paris adhered to local standards: rigorous training and years of apprenticeship produced masters of the craft.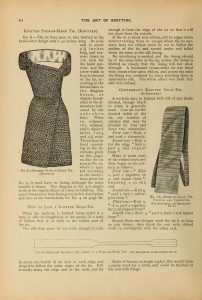 The associations devoted to knitting have changed a bit over the years but knitting has endured, taking on many roles in many cultures. If you are currently a  knitter, chances are you picked up the skill a few years ago, during the Knitting Renaissance of the early to mid 2000's. The US has nurtured several episodes of knitting popularity, notably during the 30's after the knitting industry worked hard to woo back women of the 20's who collectively left the "women's work" of knitting, presumably in favor of smoking cigarettes and doing the Charleston (and really, who can blame them?).
The Art of Knitting features dozens of vintage patterns that just might deserve a second look: booties for infants, bonnets for ladies, and hunting caps for gents. There's even a pattern for the legwarmer's great grandfather — the knitted knee cap: sure to warm the joints of fashion forward youth of the future!
As the authors of this month's highlight suggest, "patience is a virtue" for the beginning student. But it's a craft that has endured hundreds of years, producing generations of devoted practitioners like Julia Hopson of Knit Wits, Penzance, Cornwall who holds the  Guinness World Record for knitting with the largest knitting needles in the world. Enjoy!