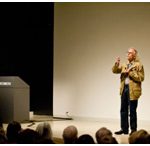 This post was contributed by Rita O'Hara, library technician at the Hirshhorn Museum and Sculpture Garden Library.
At the March 27th public program "Meet the Artist" at the Hirshhorn Museum and Sculpture Garden, Christo engaged a full house in the Ring Auditorium with discussions of two current projects: Over the River,  a 5.9 mile expanse of fabric panels which will be temporarily suspended over 42 miles of the Arkansas River in Colorado, and The Mastaba, a new permanent sculpture reportedly the largest in the world to be situated near Abu Dhabi.  After showing images of his projects, Christo was very entertaining and gracious in answering any question from the audience.

Fortunately for the Hirshhorn Museum library, Milena Kalinovska, Director of Public Programs and Education, asked Christo to sign some books, including one for the library.
Christo's lecture was so popular that many people were disappointed because the auditorium filled up quickly. If you missed this public program, you can listen to a recording offered as a pod cast on the Hirshhorn Museum web site.
In addition to many books on Christo and Jeanne-Claude in the library, there is also an audio recording entitled "Christo and Jeanne-Claude Interviewed by John Beardsley". This interview was conducted on October 12, 1975 for The Golden Door: Artist-Immigrants of America 1876 – 1976 exhibition. Full access to this interview is only available onsite at the Hirshhorn Museum and Sculpture Garden Library, however a 30 second audio preview is accessible online.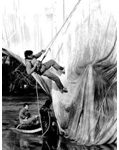 The library also has a selection of non-collection photographs.  The photograph to the left is one of two tests for Christo: Le Project Pont Neuf done in February 1985 at Gres sur Loing, south of Paris.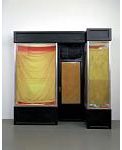 The Hirshhorn Museum collection includes two works by Christo. One of them, "Green Storefront", is now on view in the exhibition "Out of the Ordinary" curated by Melissa Ho.