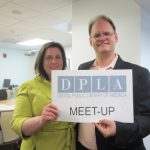 The Smithsonian Institution recently announced that it will join with the Digital Public Library of America (DPLA) to provide links to a wealth of the Institution's cultural and scientific content. The DPLA pilot project, which combines and centralizes links to the collections of participating cultural institutions, launched April 18.The Smithsonian will serve as a digital content hub within the DPLA network, which provides links to the Smithsonian's digital collection of books, journals, museum objects, manuscripts and videos. Through the DPLA, the Smithsonian Libraries will collaborate with renowned libraries, universities, archives and museums to reach a wide national audience.
The DPLA is taking the first concrete steps toward the realization of a large-scale digital public library that will make the cultural and scientific record available to all. This impact-oriented research effort unites leaders from all types of libraries, museums and archives with educators, industry and government to define the vision for a digital library in service of the American public.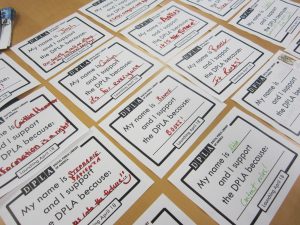 A formal launch of the DPLA was scheduled for April 18th in Boston. However, because of the tragic events in the area, the official celebrations were cancelled. In conjunction with Rachel Frick (Digital Library Federation), it was decided to hold an informal and impromptu "meet up" at the Smithsonian. Approximately 40-50 people attended the event; those attending came from a variety of institutions including the National Endowment for the Humanities, Library of Congress, the Enoch Pratt Library (Baltimore), the Berkman Center (Harvard), and the National Park Service.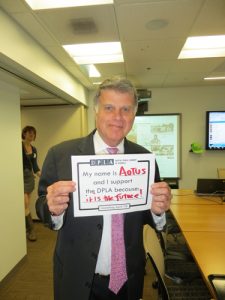 David Ferriero, Archivist of the United States, also showed his support by coming by and chatting with guests for about an hour. Earlier in the day, Smithsonian Secretary Wayne Clough, who was out of town during the gathering, sent a message wishing staff "Good luck with the event. You have my full support."
Early in the event, a video call was launched to the DPLA Secretariat in Cambridge, MA. Dan Cohen (DPLA Executive Director), Emily Gore (Director of Content), Maura Marx (outgoing DPLA Program Director), Amy Rudensdorf (Assistant Director of Content), and others, sent greetings to those in Washington. Cohen noted that the Smithsonian and National Archives represented over 50% of the total records in DPLA at the time of launch.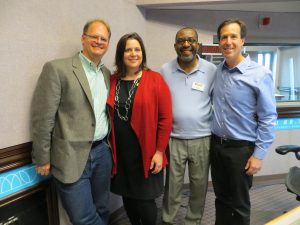 On Tuesday, April 30th, Martin Kalfatovic, SIL's Associate Director of Digital Services, joined Rachel Frick and Daniel Cohen on the Kojo Nmandi Show, a locally produced public radio program. The DPLA discussion, part of the regular Tech Tuesday programming, followed up on a 2011 DPLA segment. Listen to the segment now!
Text by Liz O'Brien and Martin Kalfatovic.