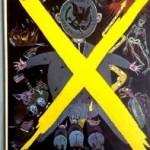 This post was contributed by Anna Brooke, librarian at the Hirshhorn Museum and Sculpture Garden Library.
One of the Hirshhorn Museum Library's artists' books with a political message is X by Sue Coe.  Coe is a British artist-journalist born Tamworth (Staffordshire), England in 1951. She attended the Royal College of Art, London. In 1972 she moved to New York City where she lives and works. Art and politics will be the theme for the Art Libraries Society (Arlis) conference which will be held in Washington, D. C. in the spring of 2014.This artists' book is dedicated to "X," the last name of the African American leader Malcolm X. It was published in 1986 by a small press in New York City, Raw Books & Graphics. The title page reads: "Pictures by Sue Coe, Text by Sue Coe (with Art Spiegelman), "Concurrent events" by Judith Moore, Edited by Francoise Mouly and Art Spiegelman, Design by Francoise Mouly." The book has only 32 pages of pictures, including a timeline of events from 1955 to 1965 by the journalist, Judith Moore. Short political poems by Coe and Spiegelman are printed over Coe's pictures which were selected by Francoise Mouly from Coe's recent work at the time.  This small, inexpensive graphic comic book is a collaboration of four people working as a DIY team.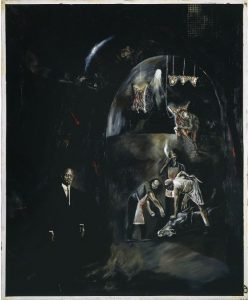 According to the book's editor and designer, Francoise Mouly, Sue Coe was reading the Autobiography of Malcolm X when she was inspired to make her Malcolm X series of prints. The seeds of this project lie in an earlier book by Sue Coe, also in our collection, How To Commit Suicide in South Africa, 1983.
The Raw Press was founded by Mouly and her husband, the cartoonist, Art Spiegelman. The most famous publication of Raw was Maus, a Pulizer- prize winning comic book for adults on the Holocaust. Incidentally, Francoise appeared on a panel, Comics as Children's Literature, during  Small Press Expo 2012 in Rockville, Maryland.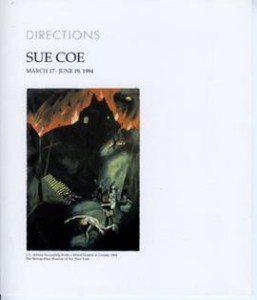 The Hirshhorn Museum library collects artists' books to support research on our museum's collection, our exhibitions, and our programs. X fits into all three elements of our collection policy. The museum owns one mixed media work on paper by Sue Coe, Malcom X and the Slaughterhouse, June 1985. This work is illustrated in X on the dedication page.  Twelve of Sue Coe's collages and works on paper were shown at the Hirshhorn in 1994 in a Directions exhibition (see brochure). Frank Gettings was the exhibition curator and Anna Brooke wrote the biography and bibliography for the brochure. A public lecture by the artist was held in the Hirshhorn Museum auditorium.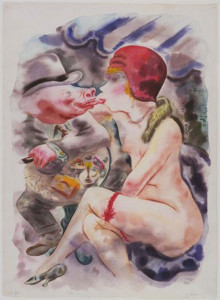 X is a social critique, raw, dark, and disturbing. Through mass distribution of her illustrations in magazines and newspapers and her art works, Coe supports the victims of oppression and calls for social change. She spent ten years investigating the meat industry and produced 160 mixed media drawings on the subject and a book, Dead Meat. Her art is related to the German Social Realist artists of the early 20th century, George Grosz (see Grosz pig) and Otto Dix, and also to Goya's Disasters of War in the 19th century. Capitalist pigs are featured on the cover of X and in Coe's work Porkopolus.  X is also related to muckrakers such as Upton Sinclair whose novel, The Jungle, 1906, exposed shocking conditions in a meat packing factory.
X is a noteworthy example of the artist as political activist in our artists' book collection.