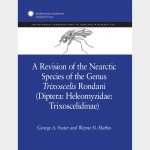 One common problem with the Internet is that hyperlinks become outdated without web page editor awareness. Websites change URLs for a host of reasons and unfortunately when third parties link to them users end up encountering "page not found" and other dead-link errors. For this reason, many academic publishers use a system of unique identifiers for their online content to act as permanent links to articles thereby avoiding these errors.
The most common form these links take is the Digital Object Identifier (DOI). When an online publication changes its web address the DOI associated with the old address can be updated in one place and all external links to the article or chapter will continue to work. Currently DOIs are used by over 4000 publishers.
A DOI generally starts with the number '10' followed by a dot and four digits and typically look like this: 10.5479/si.00810282.637.1. It is linked to the item's web address using the prefix dx.doi.org, for example: http://dx.doi.org/10.5479/si.00810282.637.1  Most readers will recognize DOIs as they are included in the list of references at the end of more and more publications.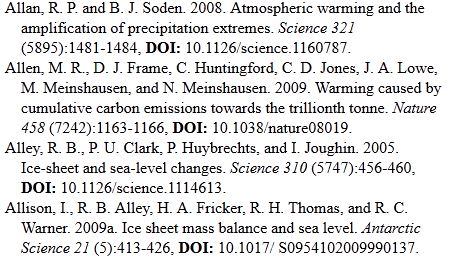 As noted, these permanent links also serve as a unique identifier for each article and chapter and provide the basis for a map of scholarly literature. And because links between and among publications can be followed not only by readers but by computer software, these connections can create new tools such as suggestions for further reading or related literature.
The Smithsonian Research Online (SRO) program works with the Smithsonian Institution Scholarly Press to provide DOIs for the Scholarly Press publications output. So far the SRO has created over 1000 DOIs for their Smithsonian Contributions series. (Incidentally, the Biodiversity Heritage Library also uses DOIs for stable links to its digitized content).
The Libraries receives monthly reports listing how many times DOIs for Scholarly Press publications were followed as links. And it appears from recent reports that activity around these publications has increased from around 300 link resolutions per month to over 1000. There are no specifics to explain this jump in usage but SRO staff assume that it is related to the recent creation and exposure of DOIs to various web-based tools and resources.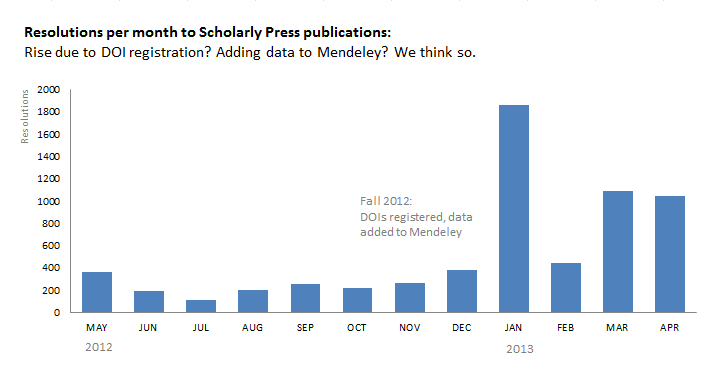 During the fall of 2012, over 800 DOIs were registered for Scholarly Press publications. This created a target of many automated web indexing services which systematically collect publication data from the central DOI registry, CrossRef. Also during the fall, the publication data (including DOIs) for nearly 1700 Scholarly Press publications were added to the reference sharing site, Mendeley. In this way the data is not only searchable by over two million other researchers but also harvested by still another network of automated indexing and search systems. Finally, during April 2013, the SRO website display was reformatted to permit automated capture of the publication data by the popular reference management tool, Zotero.
An increasing portion of Internet traffic is represented by machine-to-machine interaction and because DOIs are a central piece in online publishing, the indexing and data crawling that takes place is likely the reason for the increase in usage of the Smithsonian Institution Scholarly Press publications. But whether these links are followed by machines or by human users, it is these and similar efforts by the SRO which integrate Smithsonian-authored and Smithsonian-published material into the wider scholarly publication ecosystem.