When a book that had the impact of Edward Jenner's An Inquiry into the Causes and Effects of the Variolae Vaccinae comes into the conservation lab we get fairly excited. This 1798 first edition, part of the Dibner Library, outlines the technique of infecting patients with the mild cowpox virus to create immunity from the highly contagious and often deadly smallpox virus. As a result of his findings Jenner is considered the father of immunology and is credited with saving more lives than any man in history.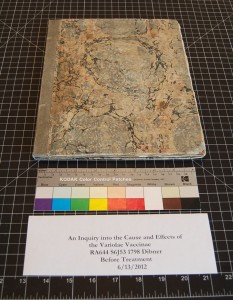 The binding is an original 18th century paper binding with a marbled paper cover. The textblock was exposed to water at some point and is suffering from extensive mold damage.   Complicating matters are the four hand colored sanguine prints featuring cowpox pustules. The ink on the plates is not stable so they may not be washed.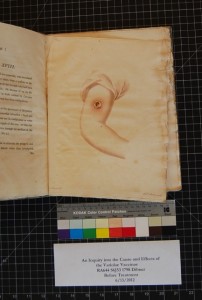 In addition to the mold and delicate plates, the sewing had deteriorated and sections of the textblock were detached from the binding.  A heavy application of animal glue was used to insert the plates and consolidate the quires of the book.  In many cases the glue seeped between the quires creating unsightly yellow staining.
The first order of business was to address the mold by freezing and dry cleaning the book.  After this the textblock was taken apart and the text pages were washed in de-ionized water.  The color plates were humidified over  de-ionized water bath and then dried on a suction table to flatten them.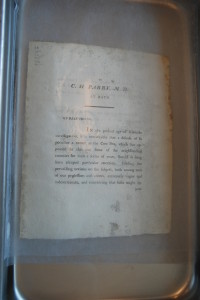 Paper repairs were made to the areas of loss caused by the mold damage using Japanese paper and wheat starch adhesive.   Each of the sections were guarded with Japanese paper. The sections were then re-sewn and the textblock re-cased into the original case.
This volume is now ready to rejoin the Hearalds of Science Collection for use by researchers.