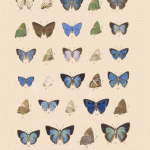 If you've spent any time deep in the heart of libraryland, then you surely have encountered ephemera, marginalia, stunningly beautiful bookplates, funny advertisements, and other semi-random stuff in the stacks that yearned to be shared, so we're doing just that through the microblogging platform Tumblr.
Made to easily add content ranging from text, photos, links, music, and video, Tumblr differs from traditional blogging formats with its social networking aspects. Follow blogs and they show up on your dashboard (akin to Twitter's feed), where you can interact through liking and reblogging. You can also leave a comment if the person posting has granted permission. Tumblr's infrastructure is relatively simple; you can post on a computer or through mobile apps (you can even post by calling an 800 number or through email!). The content is more visually oriented, brief, and simple to upload. Posts may be tagged, making content findable by other users. With over one hundred million blogs, Tumblr has grown exponentially in recent years. Users tend to be young and of the "remix" or "mash-up" generation, "express[ing] themselves by sharing, curating, and collating items of interest" as one Economist writer put it.
Sharing, curating, and collating could be the definition of a library. So naturally this platform appealed to us. The Libraries' Tumblr blog, "Turning the Book Wheel," began in January 2012, taking Ramelli's Book Wheel as inspiration. Our tagline is: "A tumblr of semi-random stuff from the stacks of the Smithsonian Libraries." Since then, we've assembled a team of six staff members from our many locations and departments who encounter varying content in their day-to-day work life. Because of the platform's ease, we simply draft a post of content we think is interesting, add quality information (such as the source and descriptive tags), and save it as a draft. Our editor, Digital Projects Head Keri Thompson, schedules when the posts will run and keeps an eye on the "dashboard."
We have also used Tumblr to experiment with and explore our content. Just last month, I took a bookplate of butterfly illustrations from the Biologia Centrali-Americana and created an animated gif. The editing wasn't much—just a few wings flapping—but with over 26,000 notes (and counting!) it has definitely piqued interest. While the average post on Tumblr gets around 9 notes, thanks to Tumblr staff noticing the post and putting it on "Tumblr radar," the butterflies went viral. We've also used Tumblr to investigate an unsolved mystery surrounding the binding of a manuscript in the Dibner Library manuscripts collection, posted in May of last year. Through crowdsourcing some paleographic help on Tumblr, experts chimed in with convincing reasoning of their interpretation of the text, date, and geographical origins of the unknown binding.
Taking advantage of Tumblr's visual, informal, and interactive environment helps the Smithsonian Libraries get the word out that we have incredible resources available to all. It reaches new audiences that would otherwise miss our very existence. The casual aspects of Tumblr also help remind people that we're here to serve, and a sense of humor is a valuable commodity for that role. Unlike most of the internet's content, we're not out there to sell ads. We are here, as founder James Smithson said, for the "increase and diffusion of knowledge." This is our fun way of fulfilling that mandate.