John Kerr Tiffany (1842-1897) of St. Louis, Missouri is considered one of the earliest stamp collectors (known as philatelists) in the United States and belongs to the American Philatelic Society's Hall of Fame. Tiffany was also the first president of the society in 1886 and was re-elected the following ten years, until he decided to stop running. In addition to having been an avid stamp collector, Tiffany created one of the largest library's on the topic of stamps during his era, along with publishing books, catalogs and indexes on the topic. The National Postal Museum Library contains a manuscript copy from 1880-81 of Tiffany's Philatelic Index.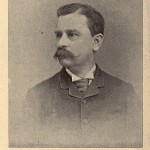 The manuscript is an early copy of Tiffany's published index from 1874. While largely a mimeographed or lithographed version, the manuscript contains hand written addenda and notes, likely made by Tiffany himself. The index cites all passages in stamp journals referring to stamps of the United States.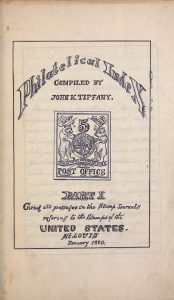 Tiffany's Philatelic Index is now the latest Smithsonian Libraries' item added to the Smithsonian Transcription Center, which includes the now 100% completed  Upcott Aeronautic Scrapbook and the Escadrille Lafayette journal detailing the flight operations of the WWI American volunteer flight squad, currently around 70% completion. All SIL items available for transcription can be found at the Smithsonian Libraries' transcription page.