April is Volunteer Appreciation Month and boy, do we ever appreciate our wonderful volunteers! The dozens of volunteers placed with us at the Smithsonian Libraries truly help us run. They include students, professionals, retirees and even former Libraries staff members. Here are a few special volunteers who help make our organization great. A heart-felt "thank you" to each and every one, as well as all of the other amazing folks behind the scenes!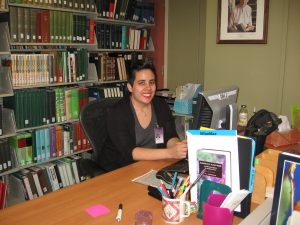 Adriana Marroquin is a former Botany Library and Biodiversity Heritage Library (BHL) intern who we've been fortunate to have continue working with us as a volunteer once her internships ended. As a volunteer library assistant at the Botany library, her day starts when she opens the library, followed by manning the desk, answering reference questions, and working on the library's current collection management tasks.  Adriana also helps out with special projects such as researching the artwork that hangs in the library, much of which is part of the Smithsonian botanical illustration collection. Her role on BHL changed from virtual reference intern last summer to Flickr content volunteer earlier this year. She reviews images in recently scanned literature to select items to upload to the BHL Flickr page, where she adds citation information and organizes them into appropriate sets.  Over the course of the last couple of months, she's uploaded a fascinating range of images from detailed landscapes, mesmerizing charts, frame-worthy coral fossils, and a few wicked-looking skulls. In describing what she likes about her volunteer work, Adriana says "These projects and discoveries from the Botany library and BHL really illustrate why I enjoy volunteering here. You never know what gems you'll come across!"  Her enthusiasm is contagious and we're so pleased to have her on board and contributing to both BHL and the Botany Library! (Submitted by Carolyn Sheffield.)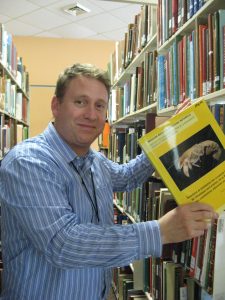 I want to tell you about James Schmitt, a Smithsonian Behind-the-Scenes Volunteer at the Museum Support Center (MSC) Library. He is currently working on the integration of the Wilson Copepod Collection with the Mary J. Rathbun Crustacea Collection at the MSC Library (see photograph). James has signed up to assist with the MSC Serials Re-alignment project, scheduled for later this summer. James is an international development professional between assignments, and his work at MSC is helping to further the Smithsonian Libraries' mission of providing access. (Submitted by Carrie Smith.)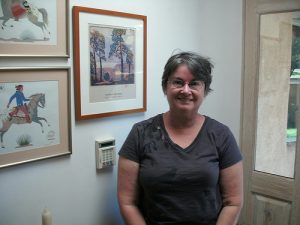 Dr. Courtney Ann Shaw has been a wonderful asset to the staff of the National Postal Museum Library. A dedicated philatelist, she assists our Saturday visitors once a month, volunteering one-fourth of her Saturday (six hours), during our Walk-In Open House, which runs from 10am to 4pm, and requires no prior appointments. Dr. Shaw retired from SI Libraries, and was immediately brought on as one of our essential volunteers. As we all know, volunteers form the backbone of any non profit organization, especially libraries. We depend on Dr. Shaw heavily to maintain the superior quality of customer service and professional librarianship expected of a national library, even on the weekends. The National Postal Museum library is a high profile Smithsonian library located adjacent to the world famous Union Station, so we receive a constant flow of international visitors and members of Congress. (We share the Postal Square Building with the Offices of the United States Senate and the Bureau of Labor and Statistics). Dr. Shaw is the National Postal Museum Library's public face on the 3rd Saturday of every month. Acting as an ambassador of the Smithsonian Libraries, she fills a vital role as the philatelic research arm of our museum. Without the top notch expertise of Dr. Shaw, we would not be able to satisfy the information needs of many prolific contributors to the national-level philatelic journals who frequent our library on Saturdays, including contributors to Linn's World Stamp News, the Philatelic Literature Review, and the Journal of Cuban Philately. We hereby celebrate the magnificent efforts of Dr. Courtney Ann Shaw in honor of 2014 Volunteer Appreciation Month. (Submitted by Baasil Wilder.)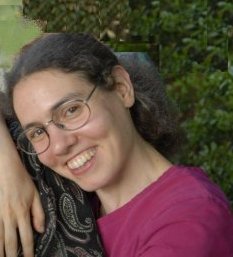 Nadia Pazolis-Gabriel joined the Smithsonian Libraries as a volunteer about a year ago working on the Digital Asset Management System. She has a background in cataloging and has worked at the Bibliothèque nationale de France and the Alliance Française de Washington. Her work has been instrumental in moving legacy Galaxy of Images and Caldwell Lighting assets into the Smithsonian's Digital Asset Management System. (Submitted by Doug Dunlop.)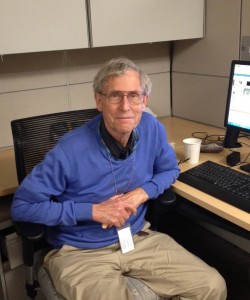 The Digital Services Division has been lucky to have Lex Grant as a volunteer since 2003 (over a decade of service!). He is retired from a busy and varied career that included owning a health food store and investing in real estate. He now enjoys sailing in his free time. Lex has been a tremendous help to Digital Services over the years. He prepared many of the 15,000 images currently available in the Galaxy of Images – cropping, resizing and creating thumbnails. He has also helped migrate much of the Smithsonian Libraries' digital image collection from old media (compact discs) to hard drives and, ultimately, the Digital Asset Management System. (Submitted by Erin Rushing)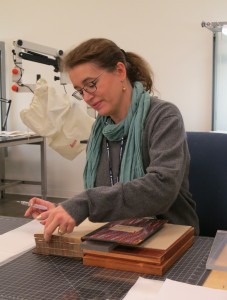 Conservation volunteer Louise Crean was previously featured on our blog. Louise, a native of Liverpool, England and avid book collector, enjoys the challenges presented to her in the Book Conservation Lab.  Louise has learned much in her time with the Libraries and has progressed her conservation treatment skills from simple paper repairs to re-casing an entire book. Our books and our staff thank you, Louise!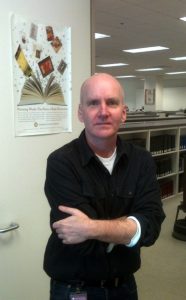 Tim Bartholomew has been volunteering for the Smithsonian Libraries for 5 years, first at the National Postal Museum Library, and at the American Art/Portrait Gallery (AA/PG) Library since 2010. Tim has helped managed the AA/PG Library's very successful annual book sale, pricing thousands of donations for sale throughout the year. In his rare spare time, he goes through book dealer catalogs to find research materials for us to spend some of that hard-earned book sale money. He is also a friendly face at the Circulation Desk, helping Smithsonian staff and outside visitors find research resources. He is a great help to the Libraries and an important member of our team.
Donelle O'Meara has been working as a Behind the Scenes volunteer with the AA/PG Library's large collection of Art & Artist Files for over 6 years. She has helped manage the online database, added and organized ephemera materials, and has an eagle-eye for catching artists' names that need updating. In addition to adding more current items, Donelle is also working through a backlog of duplicate materials donated from the Library of Congress. We have been so lucky to have her at AA/PG working to make such an important resource more robust and accessible.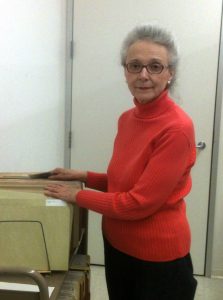 Interested in volunteering with us at the Smithsonian Libraries? See the Behind-the-Scenes Volunteer Program for more info.