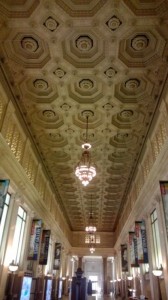 This post was contributed by Michael O'Connor, contract cataloger.
Directly across the street from DC's Union Station is the spectacular 1914 neoclassical structure that houses the Smithsonian's National Postal Museum (NPM).  Since July of 2013 I have worked as a project cataloger on NPM Library's Small Journals Project, an effort to catalog thousands of rare periodicals from the 1800s to the present.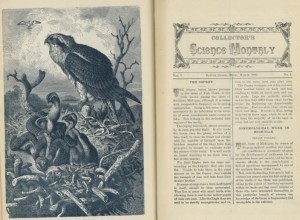 So far, about 1500 titles have been cataloged. As of the last analysis in February, over 80% of the publications were original OCLC records- meaning that the NPM Library is the only place where these publications are known to exist. Time is a factor in managing these historic items. Often, newspapers and magazines from the 19th and early 20th century are very fragile, and I am taking basic preservation measures in addition to cataloging vital publication detail.
Because stamp collectors often belong to other circles of collectors and hobbyists, many journals in the Small Journals Project cover a diverse array of subjects.  For instance, this 1880s science collector's magazine featured striking illustrations of plant and animal species.
National emotions were often reflected in stamp journals during times of war and national emergency.   It may seem a stretch to some modern readers,  however the below World War I era article is earnest in tapping the "boy power" and "girl power" rising to meet the enemy on European battlefields, to strengthen the ranks of local stamp clubs.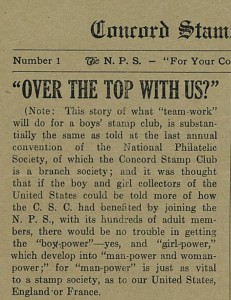 Nearly every city and country seems to have had at least one dedicated stamp club and publication. I have seen great geographic diversity represented in philatelic groups, from the Mound City Stamp Club (active in St. Louis in the 1950s), to the Mauritius-Seychelles Study Group (active in the 1960s and dedicated to studying the stamps of those tiny Indian Ocean island nations).
On a non-philatelic note, among my favorite highlights in these publications are the advertisements- from sketchy patent medications claiming to cure everything, to the latest in turn of the century labor-saving devices. Probably representing one of the earliest attempts at stereo sound, this ad for a Duplex phonograph features a crank-up record player with two horns.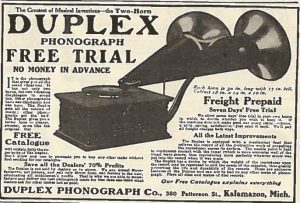 This 1886 ad (below), for a primitive typewriter, promises "convenience" and "ingenious…labor saving" functionality. When I saw this and imagined plucking out a letter on it, I had renewed gratitude for the digital age in which we live!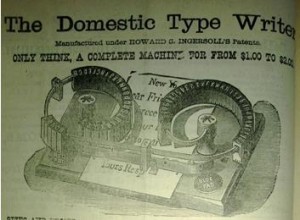 There are still many drawers of periodicals to catalog at the National Postal Museum Library, and I am looking forward to cataloging these unique treasures.  If you are in DC, make an appointment to stop by the National Postal Museum Library, check out the museum's recently opened William H. Gross Stamp Gallery, and enjoy the impressive facilities of this superb philatelic museum.