The Smithsonian Libraries invites you to:
Echoes of Their Wings: The Passenger Pigeon and its Legacy
The exhibition opening for "Once There Were Billions", featuring a lecture and book signing by Joel Greenberg, author of A Feathered River Across the Sky: The Passenger Pigeon's Flight to Extinction.
Date: Tuesday, June 24, 2014 – 6:00pm
Location: Baird Auditorium
National Museum of Natural History
10th and Constitution Ave, NW
Washington, DC 20004
FREE & OPEN TO THE PUBLIC

Please RSVP to SILRSVP@si.edu  or call 202-633-2241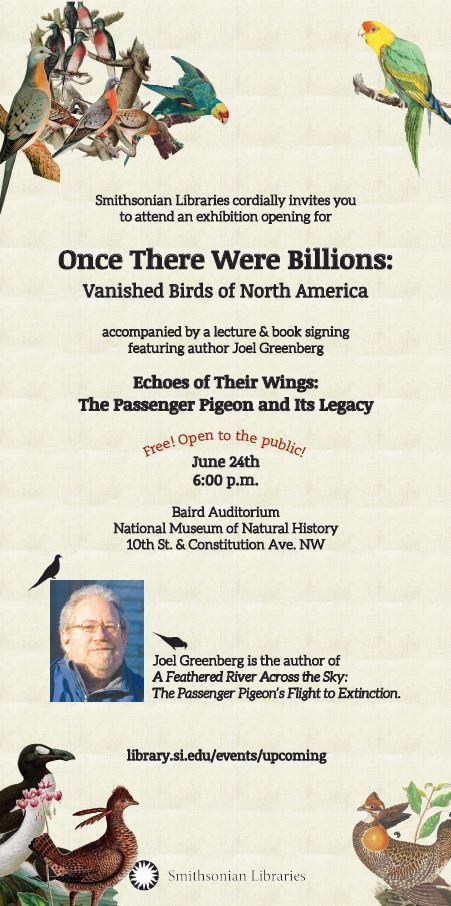 Numbering in the billions, the passenger pigeon was the most abundant bird in North America if not the world. As late as 1860, a single flight near Toronto likely exceeded a billion birds and maybe three billion. Yet because of unrelenting human exploitation for food and recreation, the last of the wild birds were killed around 1900 and the last of the species died in a Cincinnati Zoo on September 1, 1914. The story of this bird is unique in human history and the lessons that it offers are critically important 100 years later.
About A Feathered River Across the Sky: The Passenger Pigeon's Flight to Extinction.

When Europeans arrived in North America, 25 to 40 percent of the continent's birds were passenger pigeons, traveling in flocks so massive as to block out the sun for hours or even days. The downbeats of their wings would chill the air beneath and create a thundering roar that would drown out all other sound. John James Audubon, impressed by their speed and agility, said a lone passenger pigeon streaking through the forest "passes like a thought." How prophetic—for although a billion pigeons crossed the skies 80 miles from Toronto in May of 1860, little more than fifty years later passenger pigeons were extinct. The last of the species, Martha, died in captivity at the Cincinnati Zoo on September 1, 1914.
As naturalist Joel Greenberg relates in gripping detail, the pigeons' propensity to nest, roost, and fly together in vast numbers made them vulnerable to unremitting market and recreational hunting. The spread of railroads and telegraph lines created national demand that allowed the birds to be pursued relentlessly. Passenger pigeons inspired awe in the likes of Audubon, Henry David Thoreau, James Fennimore Cooper, and others, but no serious effort was made to protect the species until it was too late. Greenberg's beautifully written story of the passenger pigeon paints a vivid picture of the passenger pigeon's place in literature, art, and the hearts and minds of those who witnessed this epic bird, while providing a cautionary tale of what happens when species and natural resources are not harvested sustainably.
Book Reviews          
"The first major work in sixty years about the most famous extinct species since the dodo . . . equal parts natural history, elegy, and environmental outcry . . . Answering even basic questions about the passenger pigeon requires a sort of forensic ornithology, which gives FEATHERED RIVER ACROSS THE SKY an unexpected poignancy at the very points where it is most nature-nerdy." –  New Yorker
"Joel Greenberg has done prodigious research into the literature of the passenger pigeon and lays much of it out in this book. For that effort, all who care about the living world owe him a debt of gratitude." –  Wall Street Journal
"A brilliant, important, haunting and poignant book, A FEATHERED RIVER ACROSS THE SKY . . . will forever change the way in which you think of pigeons (all birds, really) and about the natural world." –  Chicago Tribune
"In calm, measured prose, [A FEATHERED RIVER ACROSS THE SKY is] a story of unremitting, wanton, continental-scale destruction." –  New York Review of Books
Joel Greenberg
Joel Greenberg is a Research Associate of the Chicago Academy of Sciences Peggy Notebaert Nature Museum and the Field Museum. Author of three books, including A Natural History of the Chicago Region, Greenberg has taught natural history courses for the Morton Arboretum, Brookfield Zoo, and Chicago Botanical Gardens. He helped spearhead Project Passenger Pigeon to focus attention on human-caused extinctions. Greenberg lives in Westmont, Illinois. He blogs at Birdzilla.com and you can find more about Project Passenger Pigeon at http://passengerpigeon.org
Program support provided by BATTLEY Performance Consulting.