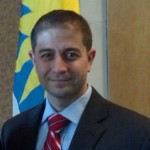 Welcome to "Mentorship Monday," where we will be featuring blog posts from our staff about their experiences with the Smithsonian Institution Mentorship program. This "Mentorship Monday" post was written by Dave Opkins, Administrative Project Specialist, Smithsonian Libraries Administration Services. The Smithsonian Institution Mentorship Program is an annual 9-month program dedicated to "developing leaders throughout the Institution" through professional development in the areas of networking, interpersonal skills, coaching, and institutional engagement.
In 2012-2013 I was fortunate to participate in the SI Mentorship program as a mentee, and I posted about the experience here.  As I said then, the most valuable aspect of the program was the number of new professional relationships I made within the Smithsonian.  In the time since writing that post, I have really seen the value in these cross-institutional relationships, not just to me, but to the Institution as a whole.  I am undoubtedly better equipped to do my job because of the connections I made and the increased awareness I have of my Smithsonian colleagues' roles and goals.  And by me doing a better job, the institution runs slightly better.  However, when you factor in this same effect on the other 30 mentees in my class, the result is the institution running much better.  I believe that this is the true strength and value of the Mentorship Program.
With this in mind, I was very proud to be involved in the 2013-2014 iteration of the program, this time as a mentor and an invited speaker at the kickoff ceremony. My focus throughout the program was on cross-institutional networking. For my kickoff ceremony speech, I discussed the elements of good networking, and facilitated an exercise where attendees were to pair off with someone they did not yet know, conduct a five minute conversation about working at the Smithsonian, find at least one professional commonality, and plan a follow-up action. I was initially concerned that five minutes would be too long, but after more than ten minutes had passed and the room was still abuzz with conversation, it was clear that those in the room were very interested in working with others throughout the Institution – it was just a matter of finding an avenue to make connections. At the conclusion of the exercise a few people shared examples of how their conversations went. My favorite involved an education specialist who was planning a tour program for a new exhibit. Coincidentally, she partnered with one of the designers for that very exhibit, and they had a great conversation.  They planned a follow-up meeting to further discuss the exhibit and to examine what could be done to enhance the tour. Indeed, the seeds were planted for a better visitor/tour group experience.
In my role as a mentor, I worked with Patrick Goar, a program specialist in the Accessibility Office.  Patrick is a very smart and motivated colleague, and we are lucky to have him at the Smithsonian. His Mentorship Program application highlighted his desire to strengthen Smithsonian operations by expanding his professional network and integrating his new network into his current working unit. Needless to say, we were a good pair. Patrick was also looking to continue developing his IT background. Through the program, Patrick was able to meet and forge relationships with senior-level IT managers in multiple units, as well as program managers in the Office of the Chief Information Officer, Office of Finance and Accounting, the SI Archives, Office of Human Resources, Smithsonian Libraries, and various museums. As anticipated, these interactions gave Patrick a broader view of his role within SI, and his new connections got a glimpse into the Accessibility Office's role at SI. Most impressively, Patrick was also tapped to serve on the SI Technical Review board.
As a testament to Patrick's positive experience with the program, he was selected by his mentee peers to speak at the program's closing ceremony. During his speech, Patrick gave the program its highest compliment, saying that it left him feeling invigorated and empowered to succeed, and that his future endeavors would be complemented by the many new connections that he made. His statement summed up the essence of the program.  Considering that Patrick's class had 40 mentees, I'd say that the Institution is now running much, much better.