Welcome to "Mentorship Monday", where we will be featuring blog posts from our staff about their experiences with the Smithsonian Institution Mentorship program.This "Mentorship Monday" post was written by Bonnie Campbell Lilienfeld, Curator and Deputy Chair, Division of Home Life, National Museum of American History.  Bonnie mentored Smithsonian Libraries' technician, Rita O'Hara, who sadly passed away in December of 2013. The Smithsonian Institution Mentorship Program is an annual 9-month program dedicated to "developing leaders throughout the Institution" through professional development in the areas of networking, interpersonal skills, coaching, and institutional engagement.
I had the privilege of getting to know Rita O'Hara through the Smithsonian's 2013 Mentoring Program.  She was the first potential mentee I talked to, and we instantly hit it off.  As part of the program, Rita and I met at least every couple of weeks, usually for lunch, to go over her goals for the program, and talk about work and life. I always looked forward to seeing her.  She was one of the gentlest and most optimistic people I've ever met, and passionate about so many things.
One of Rita's objectives in the Mentoring Program was to learn more about how various parts of the Smithsonian worked, so I had her meet with people I knew in the Castle, in Development, and in other curatorial areas at American History.  Everyone one of them followed up with me afterwards to say how much they enjoyed talking with Rita.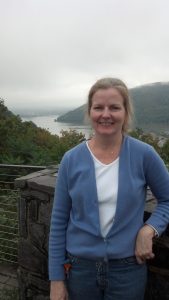 Among her many passions was her love of the decorative arts–she had gotten a master's degree from the Smithsonian's History of Decorative Arts program, and lived and breathed material culture. I'm the curator for the Ceramics & Glass Collection at the National Museum of American History so I had her help me move part of our glass collection.  She was so thrilled to handle the collection, especially the Tiffany glass.  But, she wanted to know everything about the work of being a curator so we spent many hours in front of my computer screen while I showed her how our collections database worked and how we catalog objects.  She even helped me follow up with paperwork for some complicated donations that I'd been procrastinating on. They'd still be sitting on my desk if it hadn't been for Rita's enthusiasm.
I attended the Mentoring Program graduation in March, in honor of Rita. I know she would have been so excited and proud to walk across the stage that afternoon. Rita left us too soon, but she touched many people here at the Smithsonian.  I try to keep a bit of Rita's spirit in my thoughts and actions every day.