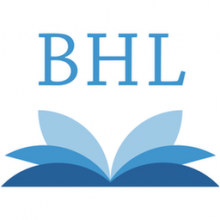 The Biodiversity Heritage Library, headquartered at the Smithsonian Libraries, welcomes the University of Illinois (Urbana-Champaign, Ill.) and Washington University (St. Louis, Mo.) as new partners. These two institutions will contribute to the digitization of historical science literature in the BHL collections. All material will be online, free, and available to the public.
The University of Illinois at Urbana-Champaign Library is a campus-wide network of libraries serving programs of learning and research in many disciplines and is the largest public university research library in the country with more than 13 million volumes. The Biology Library collection alone contains over 137,000 volumes and there are many more in related departmental libraries on campus, such as the agriculture, natural history, and rare book and manuscript collections.
Founded in 1853, Washington University in St. Louis is a medium-sized independent research institution widely recognized for its teaching, research, patient care, and service to society. Washington University operates seven academic divisions (art and architecture, arts and sciences, business, engineering, law, medicine, and social work and public health), served by 12 libraries whose print holdings number nearly 4.5 million, in addition to millions more books and journals available electronically.